​SPOILER ALERT!
When Dev reveals his plans to expand his kebab shop empire and offers Erica the job of project manager, she's thrilled. Erica confides in Liz that she's changed her mind about Dev, Liz is sceptical. When Mary overhears Tim lambasting Kevin for doing the dirty onAnna with Erica, she hurries to find Dev. Kevin confronts Dev, furious that his buyer for the garage has pulled out as they intend to buy the gym instead. However Kevin's shocked when Dev turns on him and reveals he knows about his dalliance with Erica. As the men square up to each other, Anna tells Dev that Erica did all the running and luckily Kevin saw sense and left her high and dry in a hotel room. How will Dev react?
When Chesney confides in Gemma how much he's dreading Rich's court case, she warns him to watch his back. Chesney feels worse than ever. Robert meets up withRich and warns him that the attacks have got to stop. Rich denies all knowledge.
Toyah chats to Izzy about surrogacy and realises it could be the way forward for her.
After another sleepless night with Oliver, Leanne and Steve are at their wits' end. In an attempt to bond with Summer, Billy and Todd obtain some scrap metal from Tyrone and try to build a robot (something she used to do with her dad). Will Summer be impressed at their efforts? Nicola calls at No.11 with the DNA results. Is Phelan her father? Phelan's thrilled to discover he's her dad.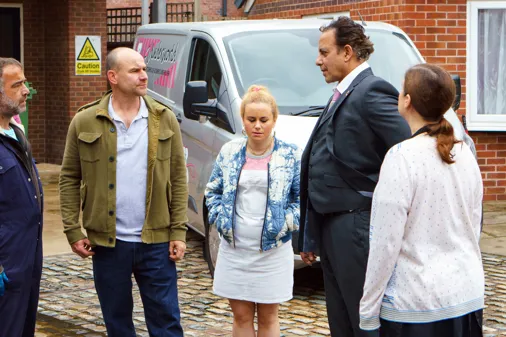 See album