SPOILER ALERT!
Christian tells Hayley he wants to introduce her to his family, but also asks for £5k. Hayley gives him the money and gets to see her grandchild, though Roy is worried she has been taken advantage of. Hayley is heartbroken when she says goodbye, knowing it could be the last time she sees them.

Tina and Peter are feeling extremely guilty over their actions, but before Peter can talk to Tina about it, Carla turns up at the Rovers.

Audrey lets David work at the salon as long as he keeps his head down so she can tell Gail, Kylie and Nick. Kylie comes in for an appointment and David hides, and then hears as she pours her heart out to Audrey. He finally realises all of the pain he's caused and feels truly guilty.

​Elsewhere, Tim moves in with Sally, and is pleased when she shows off her keys to the factory.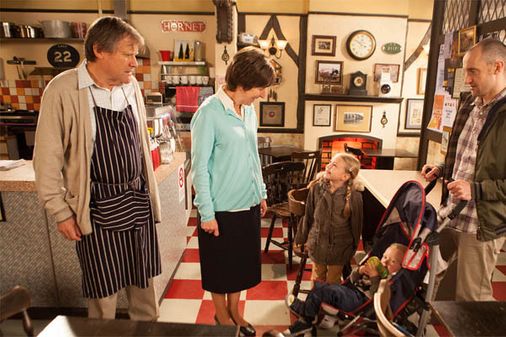 © ITV Pictures
Hayley sees her grandchildren