SPOILER ALERT!
​
Episode One
Owen returns from Aberdeen but is shocked to find Katy packing her things at No.6. When she confesses that Anna told her and Izzy about how she slept with Phelan, Owen's mortified. When Anna insists they need to talk, Owen snaps, is this the end for Anna and Owen?

Carla tells Michelle that she should stop blaming Steve for the havoc wreaked by Peter. A depressed Steve calls in the factory and in front of a crowd he bares his soul to Michelle. Will she have it in her heart to take him back?

Sally's taken aback when Tim presents her with an engagement ring that he's bought from Barlow's Buys.
​
Elsewhere Gary fixes a leak in the bistro and asks Nick if in return, he can bring Owen, Anna, Izzy and Katy for dinner.
Episode Two
Owen calms down after his outburst but admits that he can't get the thought of her and Phelan out of his head. As they head to the Bistro the atmosphere is tense when Gary announces he's landed an interview for a 12-month contract. Izzy tells Owen he needs to have it out with Anna and air their differences but will he listen?

With all eyes on her, Michelle reluctantly agrees to go back to the Rovers with Steve and talk things through. He begs her to give him another chance but will she forgive him?

Sally hesitantly shows off her engagement ring in the café. Sophie's unconvinced and asks Sally if she really wants to marry Tim.
​
Elsewhere, Carla's angry when Peter lets himself into the factory and parks himself at his desk, pointing out the business is half his and a tipsy Marcus tells Todd that he loves him.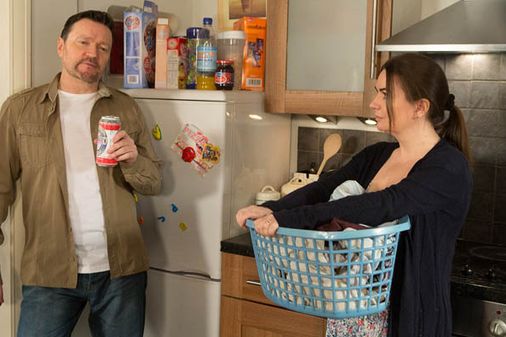 © ITV Pictures
Owen finally returns to face his demons