SPOILER ALERT!
Episode One
Jason begs Tyrone and Fiz to sort out their situation amicably rather than involving lawyers. Tyrone's tempted until Todd puts in his two-penneth and antagonises Tyrone again. Jason's furious with Todd. Desperate to make amends with his family Todd sneaks into the garage, what is he up to?

When Andrea tells Neil she's started divorce proceedings, Neil threatens to take his own life. Worried he might do something stupid Lloyd uses Andrea's keys and lets himself into the house to check on Neil, what will he find?

Peter returns to prison where Jim tells him to watch his back, because of his antics he can no longer supply alcohol and he's made a lot of enemies. Meanwhile Steve visits Jim in prison and thanks him for saving Peter's life. Jim's thrilled to see his son, will the pair reconcile?

Maddie promises to help a distraught Simon rescue Eccles before Tracy gets her put down. Kylie lies to the doctor in order to get another prescription for Max's medication.
Episode Two
When Tyrone discovers the garage unlocked and a car with all its doors open, lights flashing and music blaring out he's bemused, especially when a quick search shows nothing is missing. Todd calls in suggesting Tony's behind the break-in and is clearly trying to give him a message. But when Tyrone confronts Tony how will he react? Will Todd's scam backfire?

When Lloyd spots the wine glasses and candles laid out he realises Neil was trying to dupe Andrea into coming round by pretending he might take his own life. Disgusted he warns Neil to stay away. But Neil's not going down without a fight and the police soon come knocking on Lloyd's door.

Jim's thrilled when Steve agrees to visit again with Amy despite his mum's reservations.

With Simon's help, Maddie and Sophie steal Eccles and hide her at no.4.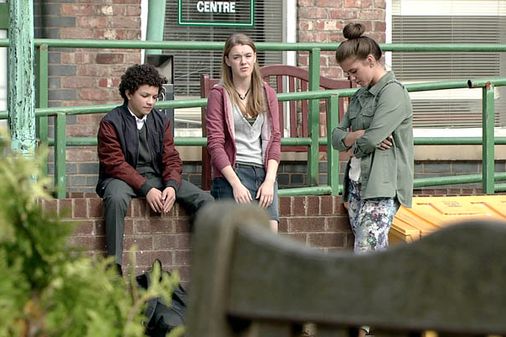 © ITV Pictures
Conniving Todd ups the ante