SPOILER ALERT!
Episode One
Hayley insists Tyrone take her to the salon to get her hair done, and the guys at the salon give her the works to cheer her up. Knowing her time is almost up, she knows she has to talk to Roy.

Leanne's angry at Stella for interfering with her marriage, and they have a go at each other in the Bistro. She quits her job and needs cheering up. Perhaps a Weatherfield Retailers' Ball with Dev is the perfect answer?

Anna worries when Owen announces he's taken out a loan elsewhere and the mill conversion plan is ago.

Elsewhere, Marcus and Maria put an offer on a house, much to Todd's bitterness, who wants to know where they got their pennies from.
Episode Two
Hayley tells a devastated Roy it's time to start saying her goodbyes. Roy takes her around the streets where she says goodbye to everyone, even having a go at Tracy, much to Roy's amusement. Back at home, is Hayley ready to take her own life?

Tracy's left in the rain when Steve drives Dev and Stella to the Retailers' Ball. Bent of revenge, Tracy nabs Stella's cloakroom ticket. Is she really going to ruin Dev and Stella's evening?

Anna is finally on board with the Phelan project. Yay Mill conversion!
​
Elsewhere, Nick and Leanne play a holiday and Marcus and Maria are sad after their offer is refused.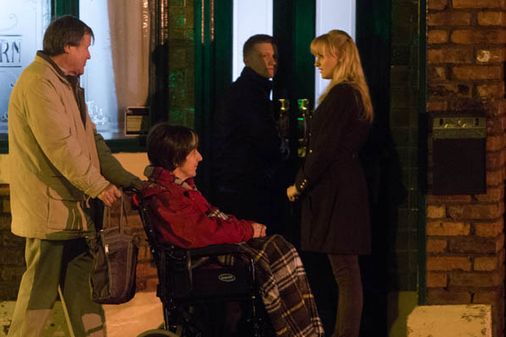 © ITV Pictures
Roy takes Hayley to say her goodbyes