​SPOILER ALERT!
As Toyah admires her name over the Rovers' door, she rubs her tummy and tells Peter she's got a good feeling about the pregnancy test tomorrow. As an upbeatPeter and Toyah enjoy their first shift as landlord and landlady, Leanne calls in with Simon and Oliver and explains that they've nowhere to live. (Nick's sold her flat and the new tenants are moving in today.)
Robert worries how Chesney's stabbing will affect business. Meanwhile when Michelle overhears Sinead asking Aidan for an advance on her wages,she feels guilty. Calling at No.5 with a card, Chesney's taken aback to find Michelle has put £200inside the card. Gemma reckons it's an insult and he should sue for thousands. In the bistro, Daniel approaches Cindy, the editor of the Gazette, and persuades her to read an article he's written about Chesney's stabbing. Robert's furious, pointing out the less people know the better, but Daniel assures him the article isn't for publication. Having overheard their exchange, Gemma's intrigued.
Todd and Billy move into the flower shop flat. Summer calls at the solicitor's office for a meeting with Todd. As Todd quizzes her about her new living arrangements, they're startled by the arrival of Billy.
​
Having ripped open a letter from the Mr & Mrs competition organisers, Mary is horrified to see they require a selection of husband and wife photos and enlists the help of Bethany and Craig.
​
Todd admits to Summer that she doesn't have a case and he only went along with it as he wanted to keep tabs on her. When Billy suggests he'll call her grandparents, Summer begs him not to. Billy and Todd take Summer back to their new flat where she tells them how strict her grandparents are. Billy and Todd wish they could help her.
​
Toyah's taken aback when Peter reveals he's offeredLeanne, Simon and Oliver a roof over their heads. Peter's on a high after such a successful opening party.
​
Gemma summons Adam and explains how the guy who stabbed Chesney is a mate of Robert's. Against Sinead's better judgement, Chesney agrees to sue. Adam calls at the bistro and reveals to Robert how Michelle gave Chesney £200 which suggests they accept some blame for his injuries and he's now looking for a substantial out of court settlement. Robert's seething. Cindy approaches Daniel and tells him how much she liked his article about Chesney's stabbing. Explaining that his boss wouldn't like it, Daniel forbids her from publishing it.
​
​Whilst Craig takes husband and wife photos of Norris and Mary, Bethany gets a call from the police, confirming that Nathan and Neil's trial will go ahead. Scared at the thought of giving evidence, Bethany breaks down in Craig's arms. Gina flogs Fiz a china figurine for £40 making out it's a valuable antique. Will Fiz's find make her the envy of her antiques class?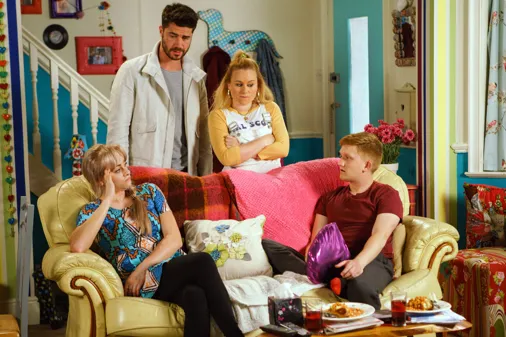 See album