SPOILER ALERT!
Episode One
Anna receives a phone call Faye's school, telling her that Faye has smashed up Grace's phone. When Mary sees the video Grace posted online of her and Faye bullying Simon, will Faye's actions finally be revealed to Anna?

A guilt-ridden Peter allows Simon to remain off school for the day as Tina offers to look after him. But when Simon tells Tina that Grace filmed the bullying, Tina is shocked and wants him to tell Peter.

Hayley and Roy set off to hospital for Hayley's first chemotherapy session, as Carla grows increasingly frustrated with running the factory and organising the wedding all by herself.

Elsewhere Steve tells Michelle about his new friend from his course, Andrea, who is helping him with his homework.
Episode Two
Anna finally sees the video of Faye bullying Simon and is sickened by it. She tells Faye that half the street knows what she did, but Gary thinks that Grace was the true ringleader and Faye was just trying to impress her. When Brian calls round, Faye realises what the consequences of her actions could be. Will the police and social services get involved?

Peter's devastated about the video of Simon going viral, and he's short with Carla as she excitedly discusses their wedding. When he sees Tina, he thanks her for all of her help, and there's an obvious attraction between the two of them. But will anything come of it?

Hayley finishes her chemo and goes back to making Carla's dress, leaving Roy feeling bitter. He admits to Mary that although he is happy she's passionate about making the dress, he wants to spend every second he can with her.

​Elsewhere Steve offers to arrange a disinterested Peter's stag do.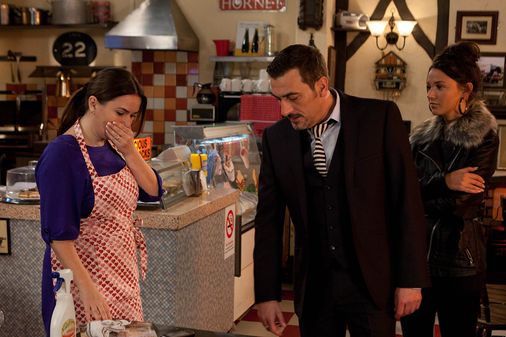 © ITV Pictures
Anne sees the video of Faye bullying Simon