​SPOILER ALERT!
Robert's worried as table after table cancel their bistro bookings. Daniel shows Robert the article in the Gazette. Robert's furious but Daniel assures him it wasn't his doing. When Chesney admits that since the stabbing he feels vulnerable,Adam does his best to convince him that he deserves proper compensation. Adam calls in the bistro and tells Robert that Chesney will settle for £10k. Robert's seething and after a row with Michelle,he storms off. Alone in the bistro, Michelle tackles some paperwork. Upon hearing noises, she goes to investigate. Michelle's horrified to discover someone has written 'RIP' in spray paint on the wall.When Peter reminds Toyah that today's the day to do the pregnancy test, Toyah's evasive. What is it she fears?
Billy and Todd pay Drew's parents a visit and beg them to do what's best for Summer. Geraldine makes homophobic and spiteful remarks. She's furious when Angus reveals a legal document stating that Drew intended Billy to have guardianship of Summer. Angus tells Summer she must choose between them. What will Summer decide?
​
Eileen calls in the medical centre to find a subdued Liz on reception. Liz explains how Moira's making her life a misery.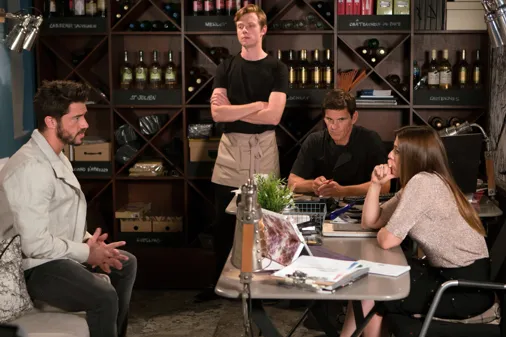 See album