SPOILER ALERT!
Eva bumps into Gary and commiserates over Jason and Alya's betrayal. Jason walks in as Eva gives Gary a hug and warns Gary off Eva. Jason's pleased when Eva agrees to join him for a night out in town, just as friends. But when Jason warns Eva that Gary's using her to get back at him, Eva accuses Jason of paranoia. Will she change her mind about going out with him?


​Tracy's angry when Robert stays out all night and switches off his phone. Tracy calls in the Bistro and apologises to Robert and begs him to come home. Will Robert agree? Meanwhile Simon apologises to Amy but Tracy's unimpressed and insults Leanne. As Leanne bites back, Robert gives Tracy a piece of his mind. Humiliated Tracy collars Leanne in the street and orders her to stay away from Robert – or else. Leanne's taken aback.

When Andy catches Steph and Luke in a heated exchange with Jamie, he angrily demands an explanation from Steph. How will Andy react when Steph reveals Jamie's blackmail? Steph meets Jamie in the Rovers, when he refuses to back down and let Luke off the race, Steph challenges him to do his worst. Fixing her with a stare, will Jamie call her bluff?

Alya feels guilty as Sharif faces an awkward day working with Gary. Sharif offers to buy back Gary's stake but Gary declines. Alya begs Gary not to punish her family for her mistake. Gary bluntly replies that he only cares about his own family now. Fiz helps the girls write wish lists for Santa, Tyrone's moved and vows to make it the best Christmas ever for Hope.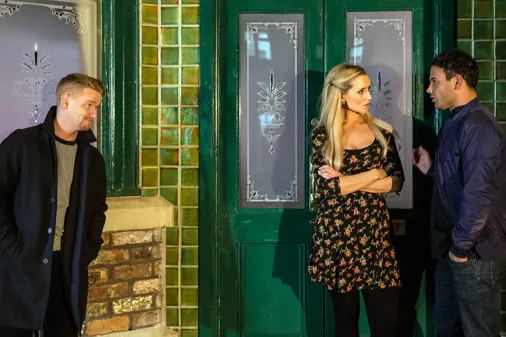 See album