​SPOILER ALERT!
Eileen's suspicious of Phelan as he sets off for work, reminding him not to forget her driving test. At the builders' yard, Phelan thanks his mate for supplying documents on Nicola Rubinstein. Nicola overhears and demands an explanation. Flustered Phelan explains that he's trying to confirm his theory that he knew her parents. Nicola arranges a meeting between him and her dad in a park. But when Phelan realises the bench he's sitting on is a memorial to Nicola's dead parents, he wonders what she's playing at. Back at the yard Nicola takes advantage of Phelan's absence to rifle through his papers. What is the link between the pair?
​
As Eva lays her cards on the table, Aidan's left to choose between the two women in his life.
​
hen Tim can't find his tablet a sheepish Gina produces it and Tim's annoyed to find she's used up all his data. Gina tearfully admits to Sally she's received a letter from her husband ending their marriage.
​
Via video call, Jude breaks the news to a devastated Mary that he and his family are staying in South Africa after all. As Gemma encourages Chesney to win back Sinead, Chesney warns Daniel that if he uses his recent collapse to try to gain Sinead's sympathy, he won't hesitate to shop him to the police. Will Daniel heed his warning? Robert finds Michelle chatting to Rich. He's appalled when Rich takes him aside and demands Robert uses the Bistro to launder money for him.
Eileen and Nicola reel from Phelan's bombshell as he explains the link between them.
Gina uses Tim's tablet to secretly purchase loads of shoes online.
When Robert refuses to launder Rich's drugs money, Rich threatens to reveal a few home truths about Robert to Michelle. Robert slams Rich up against a wall and orders him never to come back. In a bid to woo Sinead, Chesney invites her to see an art-house film.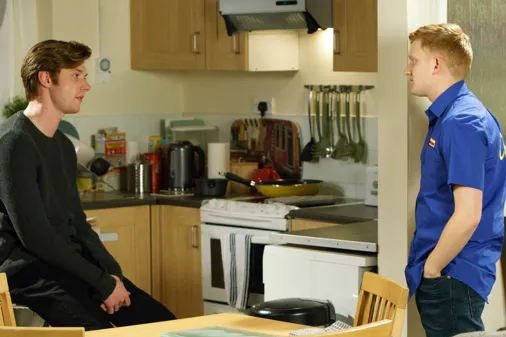 See album