Marks and Spencer have reported that Sherry sales are up by a third on last year, with PX up 180%. With 35 sherry bars popping up in just three years, it seems sherry has been wrenched away from Nan's dusty drinks cabinet and thrust down the throats of cool young things once and for all.
Reverend J W Simpson, who have been running monthly masterclasses on your less well known spirits and tipples, are a prime example of a London bar using lesser known beverages within their cocktails – and it's not just for a bit of publicity either.
Dino says: "Sherry just ticks so many boxes. It's alcohol flavor, being served as an accompaniment; it's complex, it's curious and it's approachable. There's a whole world that's kind of been ignored and hopefully more and more people will like to know and taste sherry."
One thing you may not know is that sherry is more than often dry and best served cold. There is much more to sherry than just your sweetened creams too, there's Fino, Amontillado, Manzanilla, Oloroso, Pedro Ximenez and more. Ranging from very dry, crisp sherries perfect for serving with seafood to your sweeter, heavier varieties that you'd usually find on your supermarket shelves.
It's also cheap as chips for what you're getting. Show me a whiskey that's been aged for 30 years which is priced at under £15 and I'd…well, I'd buy i, but it just doesn't happen.

All this combines to a liquor that you really ought to get to know a lot better - it's Christmas and all. So here's our pick of the top 5 sherries you should be sipping on this Christmas. Trust us, your nan really does know best.
1. Waitrose in Partnership Dry Oloroso Solera Reserva Lustau
This sherry is perfect for a winter's day drinking. With a fruity, nutty nose this could be quite a deceptively sweet sherry but it's dry slightly salty taste makes for a surprisingly stylish choice.
Available from Waitrose
RRP: £9.75
2. Gonzalez Byass Rare Old Soleras Noe Vintage Pedro Ximenez Sherry
The more expensive of the lot, this sweet sherry has a flavour that will knock you sideways if you have more than one glass. However, in the right quantities it's the perfect Christmas treat. With a beautifully rich flavour of dates and intense body this sherry is great served as an after dinner drink or sloshed over ice cream or a lemon tart.
Available from Amazon
RRP: £18.95
3. Hidalgo La Gitana Manzanilla NV
If you're after a much more traditional sherry then this Hidalgo Manzilla is an inspired choice. Dry, crisp and as salty as a classic Manzilla's seaside location suggests, this tangy but delicate sherry is about as far away as you can get from the cream variety. Great paired with seafood and served chilled.
Available from Tesco
RRP: £​10.40
4. Caversham Cream Sherry
Beautifully rich nose and a well rounded taste of dried fruits, figs without the bitter aftertaste of many sweet sherries this is definitely a great contender for your cream choice. It also won Bronze in the International Wine and Spirit Competition for 2013. For only £5.25 you'll struggle to find a sweet sherry to beat the taste and price.
Available from Aldi
RRP: £5.25
5. Gonzalez Byass Del Duque Amontillado VORS
Bright and fresh colour with notes of caramel and nuts on the nose this is a nice, complex dry sherry. It's crisp, slightly acidic finish means this sherry is perfect for roast beef, hard cheeses, and tomato based foods.
Available from Fortnum and Mason
​RRP: £21.50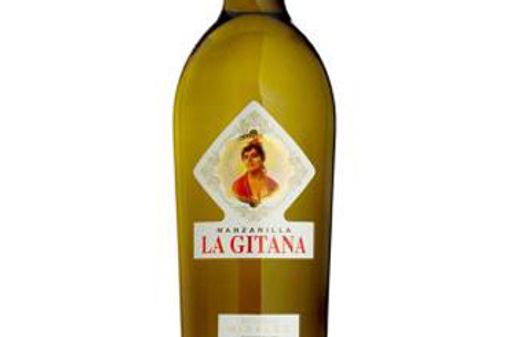 © Tesco
How do you lot feel about sherry? Will you be joining the revival with us this year? Tweet us what you think at @sofeminineUK.