SPOILER ALERT!
Panicked after throwing the bust through the window, Alfie tells Kat they have to pack immediately, but Kat refuses to leave. Meanwhile Roxy warns Phil if he hurts Alfie, they are finished, so Phil hatches a devious plan to get Alfie back...

Sadie invites Ian, Denise and Max over for a dinner party, but as Max has no one to go with he takes Lauren, which makes Jake incredibly uncomfortable. To make matters worse Sadie offers Lauren a job at Beauty over Christmas. Will she take it?

Joey tries to confide in Kat about Janine, but Kat makes it clear she wants Alice to go to prison for what she has done. Can he convince her otherwise?

Janine finds out from Carol that Joey was lying about trying to get Alice to plead guilty and she tells him it's over between them.
​
Cora is unimpressed when Dexter pulls another all-night bender so she goes to see Ava, who finally reveals to the truth about why she asked Sam to leave...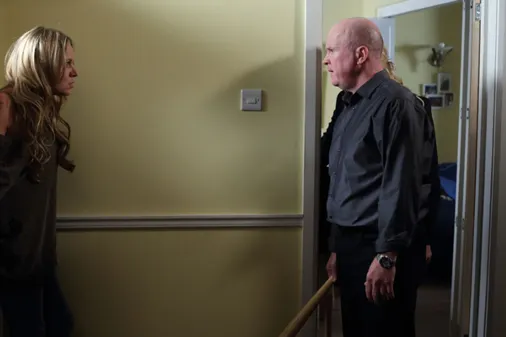 © BBC Pictures
Roxy tells Phil not to hurt Alfie