SPOILER ALERT!
Alfie struggles to keep it together and ends up rummaging through the Butchers' unwanted things. Things get even worse when Aleks confronts Kat about working on the stall and receiving maternity benefit. In a panic, Kat rushes home to tell Alfie, who tries but fails to subdue Aleks. Alfie's pride takes another knock when his friends offer to help him and a stubborn Alfie has no choice but to reconsider his radical solution.

As Bianca and the kids pack to leave, Liam is clearly desperate to stay and Sonia, Whitney and Carol question Bianca on why she is forcing him. Tensions run high between Bianca and Sonia, who struggle to come to terms with saying goodbye. Elsewhere, TJ says an uncomfortable goodbye to Cindy and Beth and Liam shares a heart-felt moment with Cindy. The Butchers and Spraggans head to The Vic for a farewell drink where Carol offers Bianca some final words of wisdom that cause Bianca to make a big decision about the move.

Linda rejects Sharon's apology and Nancy refuses to believe that nothing's going on between her and Dean. Will Nancy reveal all?

Roxy finally manages to get Sharon excited about wedding dresses. Meanwhile, Phil orders a whisky at The Vic, has he turned to alcohol?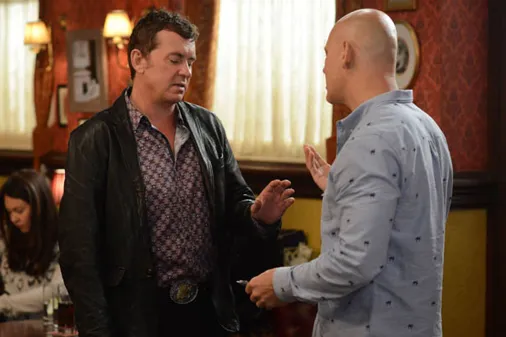 © BBC Pictures
Alfie struggles to keep it together