SPOILER ALERT!
Kathy persists with her mission to build bridges with Ben and after a suspicious phone call, she heads over to the Mitchell's house and attempts to talk to her son. Despite a heart-warming plea from Kathy, Ben warns her to leave Ben finally warms to his mother and the pair share a hug. As Kathy explains everything that has happened, she soon trips up over her lies and let's slip that she's still with Gavin. It doesn't take Ben long to realise there is more to the story and a terrified Kathy admits that Gavin has taken Phil hostage. If she doesn't get hold of some money fast, she fears Gavin will hurt Phil.

Worried about Shabnam, Kush turns to Masood for advice but when he returns home, he is stunned to find Shabnam talking to Jade's social worker, Fiona. After he leaves, Kush confronts Shabnam and learns she hasn't told Fiona about Zaair. Later on, Kush meets with Fiona and opens up about the death of their son. Meanwhile, Dean grows jealous of Roxy spending time with Masood on the market stall. Roxy tries to get to the bottom of what's wrong and when Dean admits they are understaffed at Blades, Roxy offers to become the Salon Manager.

It's the anniversary of Les and Pam's son's death and with an upset Pam refusing to engage, Les turns to Patrick for support. With Patrick's words on his mind, Les returns home but has no luck talking to Pam and soon finds himself in the arms of Claudette.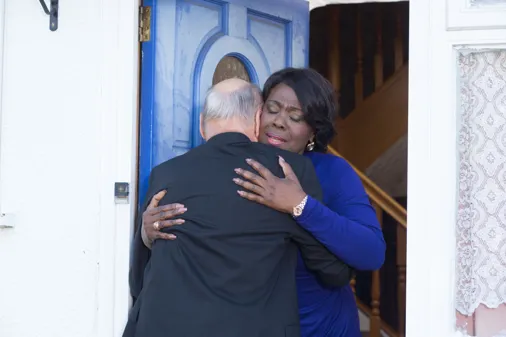 See album