SPOILER ALERT!
David is thrown out by Carol and has no choice but to sleep in the car lot. He tries to make amends, however Carol is having none of it as she's too preoccupied with making an appointment at the doctors.

Alfie appeals to Janine to purchase The Vic and make it a family business, but Janine makes it clear that she's intending to run it herself.

Knowing what really happened the night Michael died, Joey attacks Janine. David intervenes, drags him outside and lays into him about how much he is acting like his dad Derek. Joey reveals to David that Michael tried to kill Janine with sleeping pills. What is David going to do with this information?

It is Sadie and Jake's wedding anniversary and Sadie gets Lauren to babysit Bella so she can take Jake out for a meal, but can Lauren rein in her true feelings?
​
Meanwhile Dexter finally finds out the awful truth about his dad Sam, while Dot is horrified when thieves sneak in and steal the church roof fund.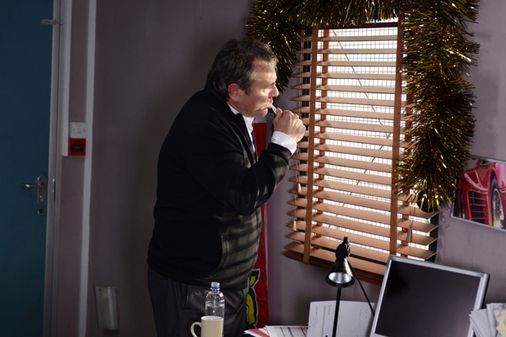 © BBC Pictures
David has moved into the car lot