SPOILER ALERT!
Believing that Lauren's used a pregnancy test, Max storms over to Jake and Sadie's as Lauren and Carol chase after them. Jake is gobsmacked when Max tells him Lauren has a bun in the oven but Lauren denies it. Before they leave, Sadie arrives and hears everything.

Lauren tries to sort things out with Jake, but arriving at his house it looks like Jake is about to fall off the teetotal wagon. Can Lauren stop him?

Carol is still unsure about who the pregnancy test belongs to. Whitney notices Liam acting off, so she claims the test is hers. Who does it actually belong to though?
​
Elsewhere, the Carters have to redecorate The Vic and Kat is taken aback when she takes delivery of Alfie's new business venture – meat. David has renamed the car lot Deal on Wheels like the good old days, but how will Max react?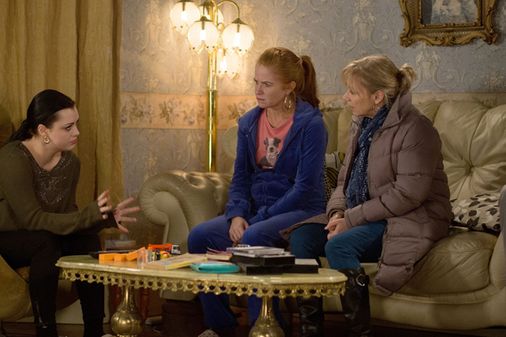 © BBC Pictures
Whitney claims the pregnancy test is hers