SPOILER ALERT!
David ends up driving Carol to her hospital appointment and is shocked to find out about her lump. David comforts a tearful Carol, who's sure its cancer. She asks David to move back in…

A desperate Janine can't talk David out of his blackmail, so she tells Billy that David is threatening to hurt Scarlett and set her up to take the fall for Michael's murder if she doesn't hand over £250k. Is David messing with the wrong person?

Bianca, Terry and the kids visit Santa in the Christmas Grotto. Bianca's furious when Carol doesn't turn up and Nikki gatecrashes the family occasion.

It's Alfie's last day as landlord of The Vic. With Kat by his side, he makes an emotional speech to the punters as he and Kat bid an emotional farewell to The

A frightened Dot finally reveals to Abi and Poppy what happened with the burglary.

Lola and Peter agree to tell their families they're an item at the Mitchell/Beale Christmas Dinner.

Jake texts Lauren to meet him secretly in an alley outside The Vic, but they've been seen by Joey…
​
It's the day of Alice's hearing and Joey's devastated as she pleads guilty to murder.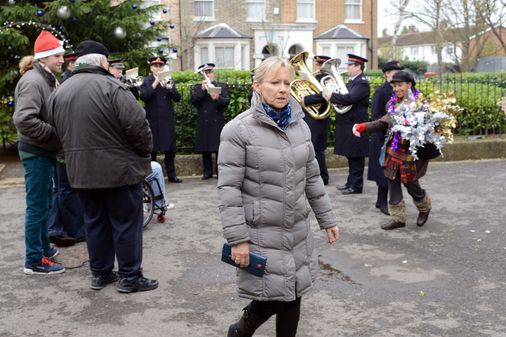 © BBC Pictures
A distracted Carol wanders through the Square