SPOILER ALERT!
Episode One
Janine goes to the Butchers' to steal the recording, but David catches her rifling through his pockets. With no options left, Janine calls Billy and tells him the plan to kill David is on.

Bianca is put out when Nikki arrives for Christmas dinner looking all glammed up. When they are alone, Nikki tells Bianca that Terry still has and always will have feelings for her. At the dinner table Nikki spills gravy on Bianca, sparking a food fight, and an upset Bianca tells Terry and his family to leave.

When they are alone Carol tells David she loves him and they passionately kiss. David is interrupted by a text from Janine to meet her, so he stuffs his phone with the recording in Tiffany's coat and he heads to meet Janine at Butcher's Joints. When he arrives, everywhere is deserted and from nowhere a car accelerates, heading straight for David…

The Beales' arrive at Phil's for Christmas lunch but it's clear no one wants to play happy families. Realising that Peter isn't going to say anything, Lola blurts out that they are a couple, leaving everyone stunned.
Episode Two
Phil informs Janine her time has run out to buy The Vic and he calls his other potential buyer, telling him the deal is on if he can get the cash to him quickly.

Phil waits in the Square for the buyer and the deal is done – Mick Carter is the new landlord of The Queen Victoria but Phil has no idea who he is related to…

As the Butchers head to the Christmas party in the Square, Tiffany discovers a phone in her pocket. When Carol finds the phone, she listens to the recording and is left in a state of shock, sickened by both Janine and David's actions. What will Carol do?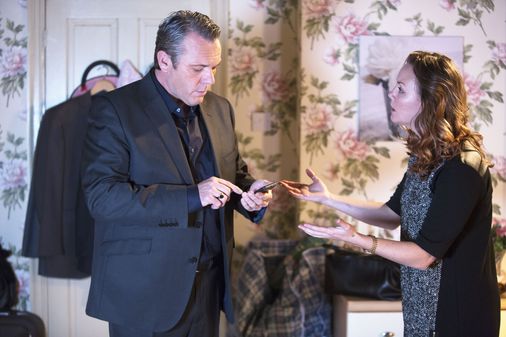 © BBC Pictures
Janine tries to reason with David