SPOILER ALERT!
Linda isn't happy to find Mick, Shirley and Tina all returning with the cash looking worse for wear, and naturally she takes it out on Shirley. Max can tell that seeing Stan has effected Shirley, and Shirley decides she either wants the money she got from him back, or her name above the door.

Linda makes sure Lady Di can't be impregnanted by putting knickers on her, mortifying Nancy, who removes them. As Nancy flirts with Dexter, Lady Di and his dog, Tramp, start getting a little frisky in the park.

David wants Carol to take it easy but she's furious that she interfered with her life. He promises to be there for her and surprises her with a gift.

Tamwar is sick of work and thinks about quitting his job. Fatboy decides to double check Tamwar's Uni fund after Masood acts suspiciously, and is shocked to find the money gone. However, Tamwar catches him looking and thinks he stole it. Masood walks in and realises what is happening, but will he come clean?

Elsewhere, Poppy is worried when Nick calls for Dot. Poppy talks to Sharon about why Dot and Nick aren't close, and Sharon fills her in.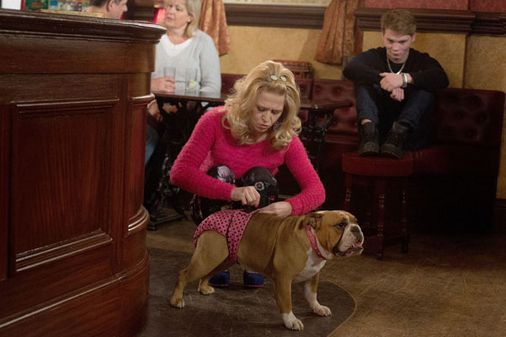 © BBC Pictures
Linda puts underwear on Lady Di