SPOILER ALERT!
​
Cain and Aaron arrive back in the village after successfully misleading the police, but everyone knows Aaron is far from safe and they urge him to leave sooner rather than later. Meanwhile, Edna questions Paddy about who really started the fire. Aaron's insistent on saying one final goodbye to Paddy before making a break for it, but his need to say goodbye proves a big mistake when PC Stone spots him in the street. Aaron makes a run for it but is surprised when Edna offers him a place to hide. Confused, Aaron questions why Edna would come to his aid. When the police knock at the door of Woodbine, Aaron is alarmed that his freedom rests in her hands. It's a nervous wait as he listens in, especially when the police explain that they have reason to believe he is connected with the death of Donna Windsor. With nowhere to run, will Edna give Aaron up?

Ross informs Paddy he knows about Donna and Marlon's kiss, threatening to tell Laurel. Paddy tells Ross not to attend the funeral but he insists he is going, adding that once he is there who knows what he might say.
​
PC Stone explains to Bob that Donna died a hero in the line of duty. Brenda tells Bob that Marlon and Laurel have decided April should not attend the funeral. Dan and Kerry have both clearly missed one another but Kerry refuses to admit it to him and tries to make Dan jealous as she talks about the men she met on holiday.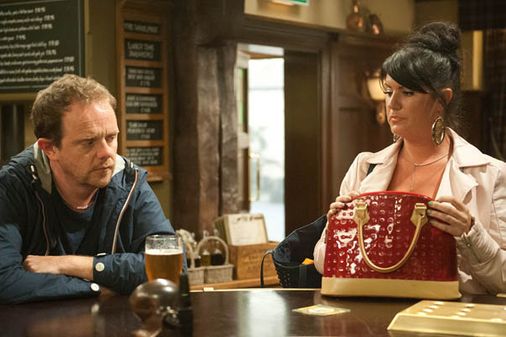 © ITV Pictures
Aaron's fate rests in Edna's hands