SPOILER ALERT!
With the weight of the world on his shoulders, Ian struggles to practice his speech for his imminent press appeal. Later, Ian, Peter, Lola, Denise, Sharon and Phil prepare to join the press conference, but Abernethy explains that only Ian and Peter can go in. Even more shaken, Ian goes into the conference with Peter, whilst the others are led to a separate room to watch the proceedings. After the conference, Denise, Peter and Sharon challenge Keeble on why she didn't stop the line of questioning, but Phil realises it was because Keeble believes Ian is hiding something and wanted to make him talk. Phil challenges Ian and demands Ian tell him what he is hiding… C/H

Mick asks Stan to talk to Cora and try to get her to take back her accusations. Stan establishes that Cora knows the prostitute.

Cora considers phoning Rainie, but bails at the last moment. Lauren tries to offer her support to Peter by attending the press appeal, but is confronted by Lola, who tells her to leave. Confused about her feelings for Peter, Lauren is told by a blunt Whitney that she needs to move on.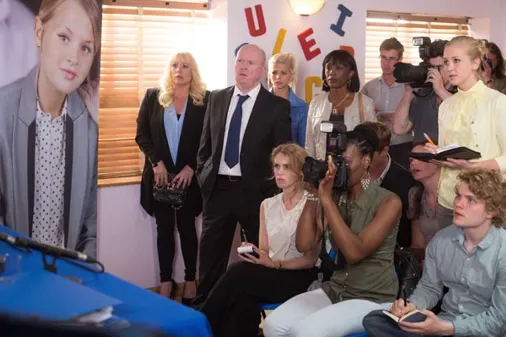 © BBC Pictures
Ian struggles to practice his speech