SPOILER ALERT!
​
Episode One
When Charity lends Robbie her sat nav after he's late with a delivery it's the catalyst that could bring about her big secret finally coming out. Robbie scrolls through the previously stored addresses on Charity's device and spots an incriminating address. Meanwhile, Declan warns Bernice she's breaching her contract by subletting her premises to Megan and Leyla and gives her four weeks to kick them out. Bernice delivers them the bad news and a defeated Megan decides to give in, saying Charity has finally won. Matters improve for Megan when Robbie shows what he has uncovered. It's an address for an abortion clinic is this the evidence Megan needs?

Andy appears unsettled after receiving a text message from Robert. Will he tell Katie about this blast from the past?

Family and friends gather to say an emotional goodbye to Sean. Dan and Ali struggle with their guilt but Ali shoots him down when he suggests they come clean to Kerry and Ruby. Vanessa continues to see Kirin but is flustered when Leyla latches on to them. Vanessa tries to end it but will Kirin find a way to dissuade her? Bernice returns Andy's ring to him.
Episode Two
Megan shows Declan the evidence, insisting Charity aborted his baby. Charity quickly denies it and orders Megan to leave. Meanwhile, Robbie asks Chas about Charity's abortion. She tries to deny any knowledge but Robbie's caught her off guard but does her hesitation give him the confirmation he needs? Back at Home Farm, Megan and Charity continue to argue but who will Declan believe?

Vanessa and Kirin are half dressed and snogging on the sofa when they hear keys in the door. Vanessa hurriedly sends Kirin upstairs as Leyla and Priya arrive to pick wedding music. Priya wants a Bollywood song for her big day. Things are complicated when she decides to call Kirin, to see what flowers Rakesh would like with Kirin and his phone a hair's breadth away, is this this the end for Vanessa and Kirin?

Katie tells Andy she knows about Robert's text, asking why it bothers him so much. Andy explains Robert spoils things but Katie reassures him. Priya informs Leyla she's not sleeping with Rakesh until after the wedding. Dan and Ali struggle with guilt but agree that what happened will forever stay a secret for the sake of their relationships. It seems Sam may not have the cash he needs as he continues to wine and dine Tracy.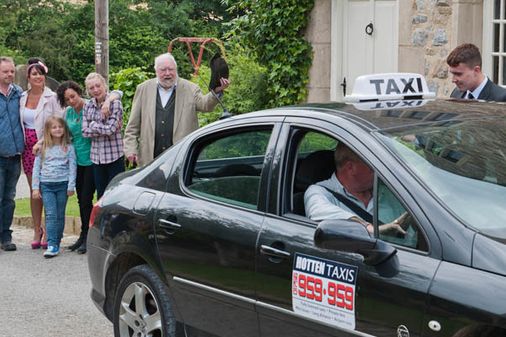 © ITV Pictures
Charity makes a big mistake by lending Robbie her sat nav