SPOILER ALERT!
A strange man arrives in the village looking for Val, but when he arrives at the pub Val hides in the back. Diane can see he really needs to speak to her, and when he finally catches up with her it turns out the two had a fling in Portugal, and Val makes it clear it won't happen again.

The police question Sam Dingle about his Christmas jumper, and he and Rachel panic when they can't find it. Declan is updated on the new findings and grows more confident as it seems his and Charity's plan sneaky is working.

Betty picks up that something is happening with Ruby and Dan, and although they throw her off, Bob is alerted to their behaviour. They tell him about the baby as Kerry blurts the news to the factory. Is it time for them to tell the kids?

Elsewhere, Finn and Victoria struggle in their new jobs.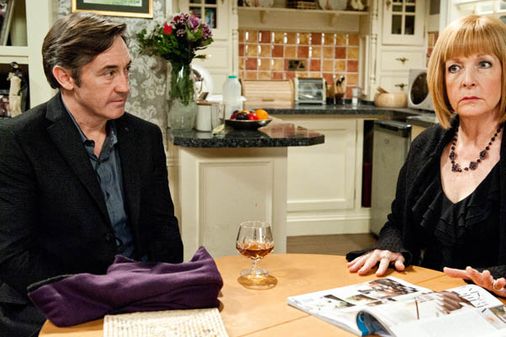 © ITV Pictures
Val gets some unsettling news