SPOILER ALERT!
Episode One
Moira is worried when Cain returns home extremely late but determined to win him back she pushes him onto the bed keen to rekindle things. Moira's happiness is short lived when Cain rushes out leaving her alone and heartbroken. Meanwhile, Declan receives a call from his accountant and asks Charity where £20,000 has disappeared. Charity covers by telling him she has given it to Debbie. To avoid a mix up Charity tells Cain what she has told Declan but their intense conversation, is spotted by a furious Moira who instantly thinks the worst.

Donna collapses whilst at the park with April, Marlon and Paddy. Not wanting April to see what has happened, Marlon rushes her home but whilst she recovers she and Paddy clear the air. Later, Donna goes to see Ross, as she is worried about him and is aghast when Ross pulls out a gun and slaps it on the table. She tells Ross he could go to prison just for having the gun in the house and goes to get rid of it, but Ross wrestles it from her. Outside, everyone's shocked at the sound of a gunshot from Dale View.

Priya's disappointed when her brother Jai refuses to go to her engagement party. Rakesh asks Jai for a word outside, leaving the others worried but Rakesh reassures Jai he's not the person he was at eighteen. Leyla arrives and diffuses the situation with her flirting which gives Jai with an idea...

Sam's excited about taking Tracy out but Robbie warns him not to let her take advantage, Andy is irked to see Katie and Declan together and Ross warns Adam to keep quiet about their plan but Adam's embarrassed his passport is still at his mums.
Episode Two
Ross and Donna are in shock after the gunshot but she covers for him when people gather saying it was kids with fireworks. However, Cain warns Ross, knowing he was behind it and a panicked Ross goes inside to try and retrieve the bullet from the wall. Ross outlines Donna about the job Gary wants them to do, saying there will be £50,000 in it. Donna later tells Ross she has got rid of the gun but wants in on the job. Ross refuses but can Donna win him round?

Leyla's fuming when Jai asks her a favour. He wants to stitch up Rakesh, by setting her up as a honey trap. Will Leyla collude with Jai? Later, Jai gives Rakesh an ultimatum if he doesn't get out of Priya's life he will tell her everything. Covering his unease, Rakesh feigns to Priya he is tired and leaves. As he goes he leaves an angry voice message for Jai, saying they need to talk. It is not long before Leyla and Jai are alone and they kiss passionately unaware Rakesh is on his way. Will he catch the pair red-handed?

Moira confesses to Zak she thinks she and Cain are over. But when Cain gets wind of it he confronts Moira. They argue and Moira suggests if Cain can't forgive her then he should pack his bags. Can Cain forgive and forget and can they rekindle their love?

Robbie tries to warn Sam off Tracy but she gets in there first. Sam tells Robbie to get out of the house but Andy intervenes, punching Robbie. Laurel's worried when Paddy tells her about Donna being breathless.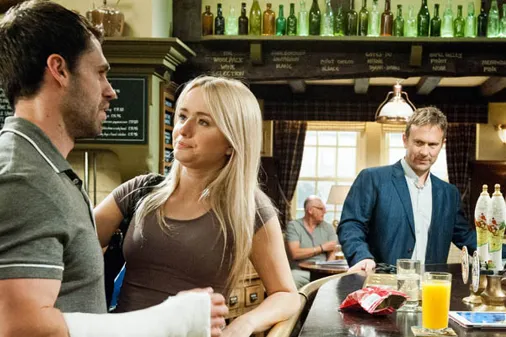 © ITV Pictures
Moira's happiness is short lived
See album