SPOILER ALERT!
​
Andy's in denial about the seriousness of his situation and its bad news when he's told he may have permanent nerve damage. Frustrated, Andy discharges himself from hospital and is soon surrounded by the support of his friends and family, including an uncomfortable Adam. But Katie quickly works out he has lied about his results being okay and can't help blurting this in front of everyone.

Against Donna's advice Ross sets his sights on robbing the factory. Called to the scene, Donna suspects it was Ross's doing and is left to cover for him. Later, Ross lets himself into her bedroom; leaving her a box of chocolates, which she soon discovers are not chocolates but the cash from the factory. Donna heads to confront him but unable to fight her feelings they are soon kissing.

Lisa catches Sam with Tracy after she secretly stayed the night at the Dingles and when Nicola confronts Sam about the phone bill in front of them, Lisa immediately becomes suspicious of her motives and insists she can't stay again. Sam takes Tracy to Home Farm to ask Declan and Charity if she can stay with them but Declan refuses. Later, Sam is left flustered and agrees to let her sneak into the Dingles again but will Lisa's suspicions be right?

With tensions high between Charity and Declan she calls his bluff over how she felt when she "lost" their baby. She tells him she's out of this marriage if having a baby is a deal breaker. Will her tactics work on Declan?

Dan's brother Daz visits the village and soon has Alicia and Kerry swooning over him and his stories from the army. Dan is less enthusiastic about seeing him however he's forced into letting him stay for a while.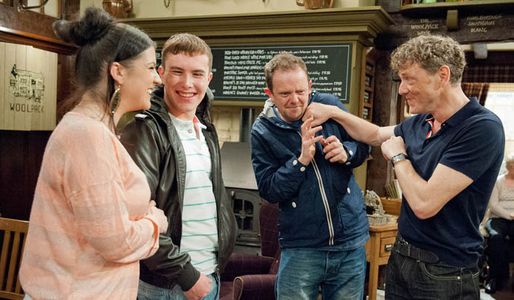 © ITV Pictures