SPOILER ALERT!
Pollard is starting divorce proceedings and Val is heartbroken. Diane suggests a drink with Pollard to cheer him up, and the two discuss love as they steadily get drunk. Victoria turns to tough love with Val when the gentle touch fails, urging her to check checked. Diane and Pollard get steadily drunker and Diane ends up leading him upstairs…

Bob sees camera footage of Betty sabotaging her food, and is annoyed when she demands compensation, knowing he can't give away the camera yet if he wants to catch the thief.

Bernice introduces Anton to Rodney. Rodney encourages Bernice to take things slowly, but she's smitten.
​
Elsewhere, Chas returns to the village and meets with James. Moira doesn't tell Cain.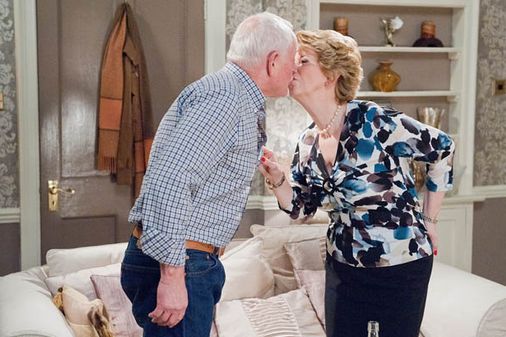 © ITV Pictures
Diane and Pollard kiss