SPOILER ALERT!
Everyone is planning Val's surprise birthday party, and a shocked Diane tries to stop them, knowing Val won't be interested. Meanwhile Val can't cope with that she has been diagnosed as HIV positive. At the Woolpack, everyone continues to prepare the party, and Val reacts badly. Diane takes Val home, where she confides in her deepest fears to her guilt-riddled sister. Will Val ever find out about Diane and Pollard?

Bernice and Nicola are determined to catch Anton to get back Jimmy's cufflinks. Nicola flirts to get his number at a speed dating night, and the trap is set.

Bob wants to face Brenda's stealing problem, and is pleased when she agrees to have a check out to rule out that it is a health problem. Kerry decides to help Brenda face up to her problems, but what strange method does she have in mind?
​
Elsewhere, Harriet saves Dom's skin when he deletes Gemma's video project accidentally. Jimmy wonders why Bernice and Nicola aren't at Val's birthday bash.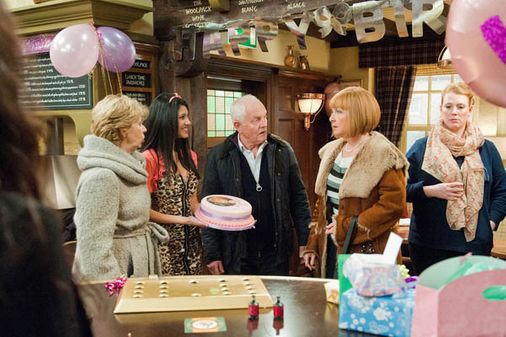 © ITV Pictures
The party goes badly