SPOILER ALERT!
Episode One
Kerry has a secret weapon and vows Val will not win the lights war, intriguing Dan. Pollard, on the other hand, gets increasingly exasperated by Val's obsession with beating Kerry. Journalists and photographers begin to arrive to photograph both displays, and Kerry unleashes her secret weapon…

Cain is annoyed by the new living situation and can't resist hinting at Ross being a thief, forcing Moira to admit to James what Ross has been up to. Cain is pleased to see things are getting awkward between Moira and James. James prepares to leave and wants to take Ross with him, but when Ross arrives with a bunch of presents for Moira he is hurt when his dad accuses him of stealing them.

Charity sinks to new lows and decides to focus on getting revenge of Jai for the entire marriage breakdown. She begins to drink and flirt with Ross, snogging him in front of a furious Jai. She then invites him back to Holdgate, looking out for Jai's return home to catch them together.

Jacob tells everyone about Priya's pregnancy, as Priya is surprised Dom has known about Alicia and David's engagement for ages.

​Elsewhere, Sam's worried about Home Farm now that Declan has been left on his own. He and Zak convince Robbie to check on Declan, and he's surprised to find it's in a complete state.
Episode Two
Charity can't wait for Jai to come back and catch her with Ross, but back in the pub Rishi is refusing to let a brooding Jai go home. Ross is ready to get going and Charity panics, pouncing on him again. When Jai eventually returns home, Charity gleefully reveals her bed buddy and Jai is furious to see them. Will Charity get the reaction she wanted?

Amelia is delighted to be the star appearance in Kerry's light display, and Kerry is proud of her display, which is then ruined when Val accidentally puts on her snow machine. The women start wrestling in the snow – is this the final battle of the War of the Lights saga?

Declan admits to Robbie that he has lost everything when bailiffs show up to claim the property. Robbie leaves but begs Katie to return with him to try to speak to Declan, but when they return the bailiffs and removal men are ransacking the house.

​Elsewhere, Paddy is being a right Scrooge by refusing to decorate his house, and won't replace Santa in the grotto. Dom tries to convince Jacob to talk to David about his fears. Cain's briefly annoyed when he hears James has decided to stay on the farm, but cheers up when he and Moira kiss and make up.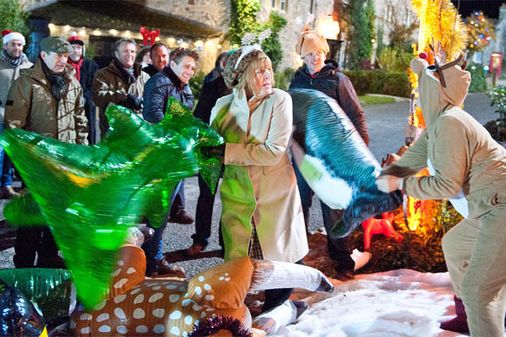 © ITV Pictures
Kerry and Val have a ridiculous fight