SPOILER ALERT!
​
It's the morning of the wedding and a distraught Kerry pleads with Dan that the kiss was all Daz but she leaves in tears when Dan tells her he doesn't know what to do. Upset after her emotional plea, the troubled bride waits outside the church hoping for the arrival of her husband to be but as everyone waits for the wedding to start, there's no sign of the groom. Will Dan turn up and if he does will this be day that Kerry's dreamed of or will it turn into her worst nightmare? Either way, it's set to be a day of drama that both Kerry and Dan won't forget in a hurry, especially when the police are called.

Chas asks Marlon if he plans to go on honeymoon but he tells her he doesn't think Victoria is ready to take charge of the kitchen. Laurel knows what the real reason is and she presses him about it. When he admits it's because of Donna, Laurel storms out, leaving him with mixed feelings of anger and guilt. At the church, Donna questions why Laurel is not there and urges Marlon to find her. Can Marlon save his troubled relationship?

Wanting to put an end to the awkwardness, Katie tells Andy he needs to move past the kiss as she doesn't want to lose him as a friend. They both enjoy a drink together but when Victoria calls round, Andy is eager to get rid of his sister. Once she leaves Katie comes out of her hiding place but will this lead to another kiss?

​Victoria calls Finn which gets the attention of a café customer, Brad. Finn arrives at the pub where Brad questions him all about the farm and asks where he lives but Victoria interrupts and thwarts Brad's attempts to learn more. Victoria hands Finn a list of addresses telling him she's been looking for his mum. But will Finn be happy with Victoria's interfering or will Victoria regret trying to help her friend and just who is Brad?

Debbie's suspicions are confirmed when she sees Donna and Ross flirt. Harriet is caught red handed when she texts Carole from Ashley's phone asking her to come to the party at the Woolpack. No one has ever seen the mystery Carole so Harriet stirs things up.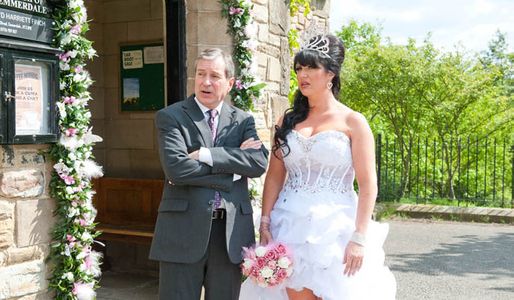 © ITV Pictures