SPOILER ALERT!
David tries to be nice to Priya after she is upset watching his stag do, but she tells him she wants him to cancel the wedding, get with her and become a family with her and their unborn child. Not too big a request then. David hugs her and is spotted by Val who warns Priya to stay away from the happy couple. The warning will probably have the opposite effect.

Declan finds out that Sam has been fired by Megan and confronts Megan. Megan has to tell him the truth, which hits him like a ton of bricks and he slams her against the wall. Megan is determined to leave and packs up to leave Home Farm.

Laurel and Ashley try to trick Arthur to give them his Christmas list but he posts it. Ashley tries to get it out of the post box and gets his hand stuck.

​Elsewhere, Rachel and Sam go to loot Home Farm to get what's theirs.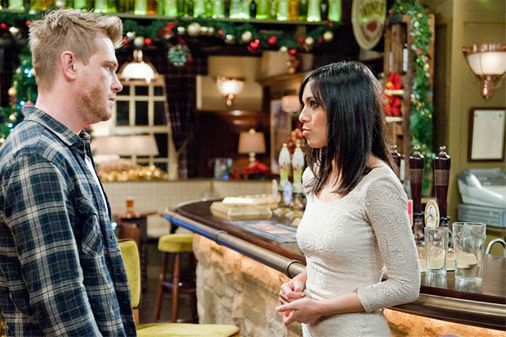 © ITV Pictures
David tries to comfort Priya