SPOILER ALERT!
Mark tells Jai he wants £10,000 to make his information worth his while. Jai is furious and happy when he hears Rachel is alone today. Charity and Declan know they need to strike to find Rachel before Jai. Mark persuades Jai to stay in the car to see if Rachel is home, warning Jai that her new boyfriend runs the whole estate. At the estate, Charity spots Mark as she questions the residents about Rachel, and Declan closes in on him and Jai begins to think he's been conned.

Leyla tells Alicia about Priya's eating disorder and asks her not to tell David. Could Alicia really keep it to herself?

Belle, Sean and Gemma celebrate their film competition, but Belle realises Gemma is jealous of her and Sean flirting, and tries to play it cool when Sean admits how much he likes her.

Elsewhere, Megan and Jai kiss. Paddy and Marion are gutted when Rhona gets hold of the real owner of the pigs. Ruby's new client's son is an old ex-boyfriend. David organises a last minute party when he forgets Alicia's birthday.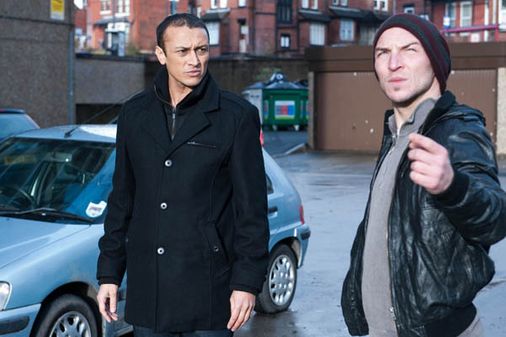 © ITV Pictures
Mark wants more money from Jai