SPOILER ALERT!
​
Episode One
The day of Donna's funeral has arrived and Bob and Marlon are struggling to face up to it. Ross puts on his suit ready to go, but Debbie is determined to talk him out of it. In a desperate bid to keep him away Cain locks him in the garage. But as the hearse and procession passes through the village, Ross spots an axe in the garage and considers his escape…

Adam's facing up to yesterdays events as he heads to court for Aaron's hearing. Later, Adam has an announcement to make to everyone in the Woolpack but just what will he reveal?

Pete is worried about how concerned Debbie is over Ross. He confides in James about his worries, and tells him that he's planning on asking her to move in with him.
​
Ashley is shocked when Carole's husband, Graham, turns up. Finn tells Victoria that she got a message from his mum on Find My Family and she wants to meet him, but Victoria is suspicious.
Episode Two
Marlon and Ross scuffle when he tries to prevent Ross entering the church. Cain intervenes, as Ross is about to come clean to everyone about Donna. Harriet continues the service but when Laurel tries to comfort Marlon, it's like she's not there. Meanwhile Brenda tries to explain what a funeral is to April but at a loss at what to say, she takes her to Gennie's headstone where April spots Ross at the newly dug empty grave. How will April take the news that the hole in the ground is where her mummy will be buried and how will Marlon react when he spots April clinging to Ross? Also, will Laurel have second thoughts about the wedding when she sees just how upset Marlon is over Donna?

Ashley's mortified as Carole and Graham argue. When Graham leaves he decides to end it with her but when Carole starts to badmouth Ashley, Harriet is the first to come to his defence. Will she be surprised at just how strongly she feels for Ashley?

Finn's angry that Victoria told his dad he's looking for his mum. He's disappointed when James suggests the message may not be from her. Victoria watches Finn as he goes to delete the profile he set up to find his mother, but will he actually go through with it?
​
Moira offers Adam his job back, telling him that she's proud of him for telling the truth about the fire. Pete builds up the courage to ask Debbie if he can move in but will his nerves get the better of him?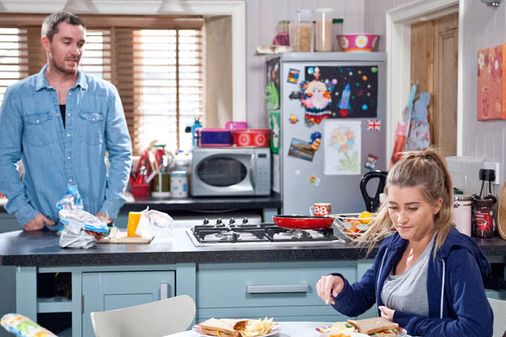 © ITV Pictures
Donna's funeral has arrived