Cuderm
Moisturising Cream
Category:
Body
Price: £11 - £20
Description :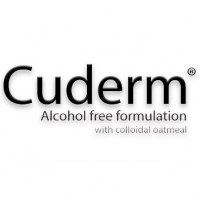 Category: Body
Product type: Moisturising Cream
Price: £14.46
Cuderm® offers a range of lightweight, hypoallergenic formulations that are clinically proven to help moisturise and protect all skin types but are particularly suitable for dry, sensitive or eczema prone skin. Formulated with a unique concentration of finely-milled Colloidal Oatmeal the Cuderm® formula establishes a natural barrier to support and regulate skin pH as well as protecting the skin against everyday irritants. An exciting, innovative difference between Cuderm® and other moisturising products is that with daily-use the finely-milled oatmeal provides a natural, gentle exfoliation which removes dead skin cells to help maintain brighter, healthier skin.
Made with purified water, Cuderm® products have been specially developed to avoid any alcohol-based ingredients which can dehydrate and sensitise your skin. Research shows that many moisturising products that contain alcohol-based ingredients are among the main triggers of allergic contact dermatitis. Cuderm® is also the first emollient skincare range of lotions and creams that is hypoallergenic and free from parabens, colouring, SLS and GMOs. It has not been tested on animals and is Halal certified and vegan/vegetarian approved.
Cuderm® Cream provides an intense moisturiser for face and body and helps to soothe, maintain and protect the skin's natural barrier.
Cuderm® is supported by a clinical trial that demonstrates its effective 24-hour moisturising properties, even after a single application. This means Cuderm®'s non-sticky formulation provides long-lasting moisture to keep skin feeling as soft and hydrated in the evening as it does when first applied in the morning.
For more information visit
Cuderm.co.uk
.
---
Comments
The reviews are sorted according to their date of publication

Very generous sized bottle! Absorbs fast, is non sticky, relieves itching. Love that it's water based and paraben, SLS and fragrance free. Compares favourably with a similar well known brand. Choice between them will probably come down to price. However, still to determine whether it's better over medium/long term. !!!!!FIVE STARS!!!!!

I really like this moisturising cream, it's actually a new favourite for me! It goes on to the skin easily and sinks in well. I didn't feel sticky or greasy afterwards. My skin felt moisturised for quite some time after applying the cream, so it seems to be long lasting too. It even helped my dry patches on my elbows. I like the consistency too, and plus it's a big bottle so will last well :) Very happy with this and would definitely recommend!

Wow good size bottle so great first impression, looked quite thick but you only need to use a small amount so will certainly last,it took a while to rub in on my face but over body was good my skin seemed to drink it up,making my skin super soft over time.Overall quite impressed with this product although it could do with a gentle fragrance but that's only my opinion. thank you for letting me trial this product.

Was very impressed with the size of the bottle, the cream went far by just using a small amount! I was pleased that it didn't make my face feel to sticky unlike some other creams I've used. My skin feel softer and an added bonus has taken some of my spots away which I didn't think it would. Definitely would recommend!!

Firstly can I say i was amazed at the size of the bottle. Secondly I have found this cream brilliant as I have really dry skin on my legs and elbows due to having vitaligo and usually I find creams greasy and they don't last long, Cuderm has been an eye opener and my skin has improved so much. The dry patches on my elbows have disappeared and my legs are so much better. I have recommended this to lots of my friends so they can see the results of it as well.

Lovely product and love using it. It's easily absorbed, light, non- greasy and a little goes a long way. I use it every day after showering and have found a difference especially on my back and shoulders where my skin is quite dry. My legs feel hydrated, smoother and softer since using Cuderm. definite improvement in my skin overall since using this and wouldn''t hesitate to recommend it I will certainly be investing in more Cuderm in the future and thank you so much for allowing me to participate in this trial.

Love this product, I have dry skin and patches of eczema but my legs especially have really improved since I have started using cuderm also it is not greasy like a lot of creams so you can use it as a hand cream as it's in the handy pump

I was a little alittle apprehensive about trying this product as id never heard of it. All i can say is never judge a book by its cover. I was only expecting a sample sized bottle

Thanks for the chance to try this cream.It was a good size bottle and easy to use and the cream melted inro my skin...leaving it non sticky ..I have very dry and sore patches of skin on my body and after using this cream my skin is no longer sore or dry....i cant belive how good my skin feels after using this ...it sinks straight into your skin and leaves it soft and non sticky.. I will be buying this cream

I suffer from sensitive skin and pustular psoriasis which means many products aren't suitable for me. With recent summer months has come the dreaded dry skin which really does cause me problems Cuderm is great because I much prefer using a pump action application.It is so easy to apply and use absorbing into your skin quickly and evenly, my skin felt smoother immediately and it was not greasy at all. I have noticed a massive difference to my skin, I actually feel comfortable in my own skin so I will continue to use Cuderm.
YOUR OPINION ON THE PRODUCT
Subscribe to our newsletters
Subscribe to our newsletter and never miss our latest product tests and news