FrezyDerm
Sunscreen Velvet SPF 30
Category:
Skincare
Price: £11 - £20
Description :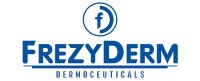 Category: Skincare
Product type: SPF
Price: £17.50
An innovative, transparent sun protection face cream with unique cosmetic behavior that spreads evenly with one touch. Thanks to the revolutionary Second Skin Technology innovation, its unique formula leaves a velvety feel on the skin, offers a matte appearance for 6 hours, absorbs sebum and softens the appearance of wrinkles. Its clear, non-oily texture leaves no white tint and makes an excellent makeup foundation. Prevents signs of photo-ageing and protects against discolouration caused by sun exposure.
- Velvety feeling
- Matte finish for 6 hours, absorbs excess oil and sebum
- Softens the appearance of wrinkles
- Leaves no white tint
- Water resistant
- Allows skin to breathe
- Non-oily texture
- Available in SPF 30 and 50
For information about FrezyDerm visit
FrezyDerm.co.uk
---
Comments
The reviews are sorted according to their date of publication

Excellent sunscreen, it really does have a velvety feel which sinks in and feels good on the skin. Also works well under makeup and hasn't caused me any irritation or breakouts. Would prefer more natural ingredients but I've yet to find a natural sunscreen that sinks in so well, ,and I knew what I was getting when I got it so I'd say five stars!

Thank you for letting me try this item. I really did like it. Very smooth applying, not greasy at all. Not much of a smell to it but that's not a bad thing. Skin feels good after applying. I will definitely recommend this to family and friend s

Fantastic product! Second skin feeling, so velvety and smooth and the SPF! Perfect! I love it!

Thankyou for the chance to review this product, I love how it feels on my face. It is so velvety and smooth to put on, and it's a lovely base for under my makeup. Even my hubby loves the feel of it, so have has to hide it away as want to use it on holiday next year....I may let him use some, haha!!

Thanks for letting me try this product I thought It was great for my skin not at all greasy or oily made my skin very smooth to the touch and the smell was ok to so I would definitely recommend this to friend's and family thanks

Have received mine thank you I will try it today and let you know how it went reason for 2 stars it sounds great exactly what I have been looking for once I have used I will rate again

I have extremely sensitive skin

I have mine now, I would like to say not Greasy, Smooth on the skin and not a over powering smell. I will defo be telling people to try this. Thank you for the chance to test..

Thank you for picking me to try this product, I use suncream alot and this is perfect I've received this morning and when put it on my face it wasn't greasy or like oil like quite a few of the suncreams I've used, it's very smooth on your skin and light I will definitely be recommending to freinds and family 😊 and it's definitely on my list to buy in the future again thank you so much for choosing me x 😊

I'm going on holiday mid November. I hope I can take this :)
YOUR OPINION ON THE PRODUCT
Subscribe to our newsletters
Subscribe to our newsletter and never miss our latest product tests and news