Feather & Down
Sweet Dreams Pillow Spray
Category:
Misc.
Price: £6 - £10
Description :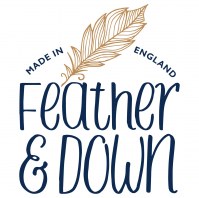 Product type: Pillow spray
Price: £7.00
Size: 100ml
Let your mind and body unwind to encourage relaxation and a state of well-being – you deserve that little bit extra sleep and me time. Feather & Down's 'sleep in a bottle' pillow spray is expertly blended with lavender and chamomile essential oils to encourage calm and tranquillity for a restful night's sleep.
Feather & Down Pillow Spray is available at
Boots.com
Watch Dr. Nerina ​discusses the importance of sleep and how it can affect your everyday life.
For more information about Feather & Down visit their website
here
.
---
Comments
The reviews are sorted according to their date of publication

I hav make my sleep much better with this product. Definitely recommend this one

I love this more than I expected to! The first night I sprayed on top of my pillow - mistake! The aerosol got in the back of my throat and I choked, lol. Since then I sprayed under the pillow and its lovely. The smell is just perfect, and really relaxes me - helping me get to sleep quicker. Really love this product, 100% recommend

I definitely loved the smell! just right and not annoying. I did not sleep better as I thought I would but I would buy it just for the fragrance.

Fantastic. I've suffered with sleep problems for years vastly due to not being able to relax. This product has definatley helped and I would certainly recommend to friends and family

I absolutely love this! The smell is spot on, and if nothing else, it makes the bedroom smell lovely! I suffer with terrible insomnia, and have tried this on my pillow and it did relax me andhelp me drift of, but i cant say conlusively that it trully helped. But, oh its so lovely!

it took a few days for me to get used to the smell ,at first it was a bit overpowering then i started to get used to it and found it did help me to relax so i will recommend to friends to see how they like it.

So far so great. Just a spray of this on my pillow and I have noticed I am sleeping better. Whether it is psychologica or actually does work I can not answer but what I can say is that since using the spray I am feeling more energetic in the mornings. The smell is lovely too, would definitely recommend

Great so far I just spray it on my pillow and drift off to sleep a lot faster then I used to, I know there is a difference If I forget to use it, Also the smell seems to stay quite a long time on the pillow I think usually all night but I would say that the smell to me anyway does not really smell much of lavender I prefer a stronger smell of lavender usually as its one of my favourite smells I think its just a bit more subtle scent

So far this had worked for me it ha's a lovely smell of lavender and I find that it does relax me and I drift off . I've used it on my nephew as he has a hard time getting to sleep and he went out after 5 mins so it does calm him down and drift off to sleep so far so good I'm glad I was chosen 😊

I must say I wasn't holding out much hope but couldn't wait to give it a go, the first night I spritzed it on my pillows and must say the gentle delicate aroma was very nice and it seemed to work,so I used in for a few more nights then stopped and yes it worked, needless to say I carried on using it I am impressed. Great product .
YOUR OPINION ON THE PRODUCT
Subscribe to our newsletters
Subscribe to our newsletter and never miss our latest product tests and news