It's a big week for IMG modelling agency. Their move to relax the rules on who can become a fashion model should lead to a lot more diversity in an industry that's known to favour the few.

The IMG Models Senior Vice President and Managing Director, Ivan Bart, recently spoke to Cosmopolitan.com to explain the thinking behind their decision.
Speaking at ​a career summit put on by Cosmopolitan magazine, the Council of Fashion Designers of America, and Lancôme, Ivan said, "We just want to represent the best. With this new way of thinking, I can tell women who work so hard to get into the sample size, 'Eat! Be yourself, just be the best you can be — exactly how you are!'
"​For us, as long as the talent is at a healthy weight that he or she and his or her doctor believe is right for them, and they're exercising, since that's a healthy way of life, then the industry should reflect that."
He went onto say, "We want to be an ageless, raceless, weightless agency. We just want to represent the best people in the industry."
The agency already represents some of the planet's most iconic models, including Gisele, Karlie Kloss, Kate Upton, Joan Smalls, Alek Wek and Chanel Iman. They've always had an open-minded approach to beauty and now they're taking it one step further.
"At IMG, if you're a talented model, we're going to work with whatever you are."

This mantra already rings true: IMG represents 83-year-old model China Machado, the current face of Cole Haan.

"At 83 years old, she is more vibrant and has more personality than most people," Ivan said.
IMG will continue to expand their portfolio in a diverse manner. They currently represent many of the top African American, Brazilian, and Asian models.

He said, "We've always tried to find the most diversely beautiful women in the world, and we can always do better."
Ivan is aware that while he might be diversifying the agency's books, it might take some time for the rest of the industry to embrace a broader range of models.

He said, "We might not win in certain aspects of it and it might take a while for companies to adapt to what we're trying to do, because we still have to work with the industry and if they ask for a sample size, we have to deliver."

But we're hopeful that things will change sooner rather than later. The zeitgeist at the moment? Things are already moving in the fashion industry.

From the rumours that Lena Dunham will feature on the cover of Vogue, to seeing more curves on the Fashion Week runways, we sense that the fashion world is ready to try something new - and we can't wait.
We hope the rest of the industry will follow suit and embrace women of all shapes, sizes, and ethnicities. Kudos, IMG!

Would you like to see more plus-sized models on the runway? Tweet us @sofeminineUK!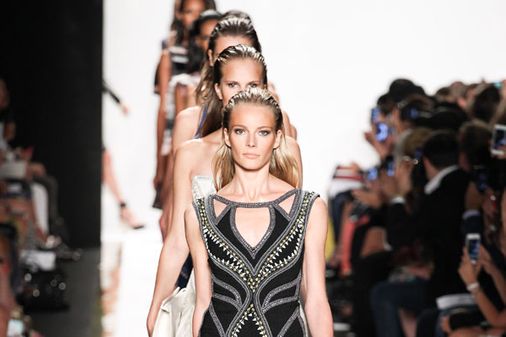 © Pixelformula
Models at Herve Leger