You've got to love the Teen Choice Awards simply for the opportunity to glamour gawp. That is, to check out the hottest outfits in LA and then dream about them a little bit.
It was all eyes on Miss Taylor Swift at the awards ceremony in Los Angeles on Sunday night as she stepped out in a strappy knitted crop and matching skirt. The Choice Female Country Artist winner is fast becoming THE style icon to watch and this year she wasn't about to let her standards slip. We rate Swifty 10/10 for this year's evergreen ensemble.
Kendall Jenner was snapping closely at Swifty's heels in a flawless ethereal number. Featuring a cowl neck and sheer leg panels, the model of the moment looked seriously confident her outfit of choice and with those pins we can totally see why. She topped off her look with wet look hair, soft white eyeshadow, glossy lips and feathery lashes.
And from hit to miss, Demi Lovato is recycling her leather collection a little too much lately. We'd love to see her swapping her biker wardrobe for a red carpet classic next time. What's your verdict?
Check out the outfits that got us talking in the gallery below!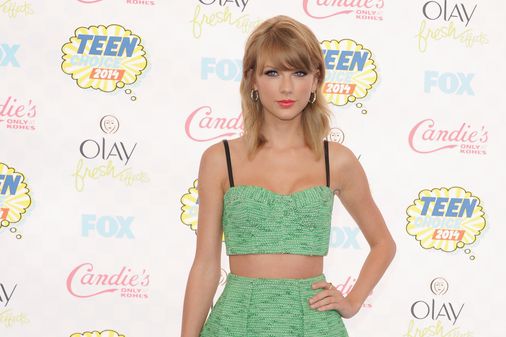 © Getty
Taylor Swift Teen Choice Awards 2014
Who do you think stole the shoe at the TCAs? Tweet us @sofeminineUK
You might also like:
10 Fashion Trends That Are About To Take Over Your Wardrobe
22 Stages Every Girl Goes Through In Primark