Having beautiful big hips can be a both gift and a curse. Sometimes it's nice to flaunt your curvalicious bod, but other times you want to skew demure. We feel ya!

Towing the line between sultry and subtle can be a task that even the most seasoned style vet finds herself struggling with. So don't be too hard on yourself if you have a few fashion missteps.

The good news? We're here to dish a few of our fool-proof tips that will have you dressing that gorgeous figure like a pro!

Here's what to wear if you have big hips.
Your Big Hips Shopping List
V-Necks
Proper Bras
Embellished Tops
Straight/wide leg pants
A-line skirts/dresses
Statement jewellery
Longer Shirts
V-Necks Are Invaluable
Go va-va-voom like Bad Gal RiRi in a daring V-neck. The extra skin that's exposed on your top half is sure to distract from your big hips. Rihanna's look also works because of the hue.

Remember: black is always sexy and slimming.
Get Pushy
Aim to even out your figure by opting for padded and push-up bras. Watch your bust go from an A to C cup in the blink of an eye.

And who would refuse bigger boobs (or at least the illusion of bigger boobs)?! Bring on the bras!
Embellishments Never Hurt
Embellishments on tops are the perfect sparkling distraction from wider hips. Trust us, everyone will be too busy asking you where you shop to even think of moving their eyes below your waist. Get a fancy blouse and watch a fashion miracle happen.

A little razzle dazzle goes a long way.
Open Wide
Make it a point to never stray from the goal: achieving a proportioned figure. By wearing wide leg trousers you provide an added layer of depth to your gams, and in the process even out your body.

Oh, and let's not forget how chic and stylish they are. There's just no way to lose!
Aim For A's
Get fun and flirty in an ultra feminine A-line dress. Concealing your curves doesn't mean you have to look frumpy. It's the absolute opposite.

Jennifer Lopez maintained the sex appeal with her frock by going with a higher hem line. Take notes!
Go For Jewels
If there's one thing a woman can never have enough of, it's jewelry. Statement pieces are always the way to go. Not only do they magically turn boring outfits into showstoppers, they serve as considerable distractions from our flaws.

Another perk? It's a great way to make conversation. We can't tell you how many times we've made friends after lusting over their jewels.
It's A Long Day
The beauty of longer shirts is that they rest right below your hips and disguise them stylishly. Rock your top with a nice pair of trousers and heels to take the look to the next level.
IMPORTANT! Read These Pear-Shaped Girl Fashion No-Nos....
Looking to avoid a fashion faux pas? Then avoid these items.
Extra tight pants
Skinny jeans
Tomboy attire
Tight short skirts
Take Some Style Cues From These Big-Hipped Girls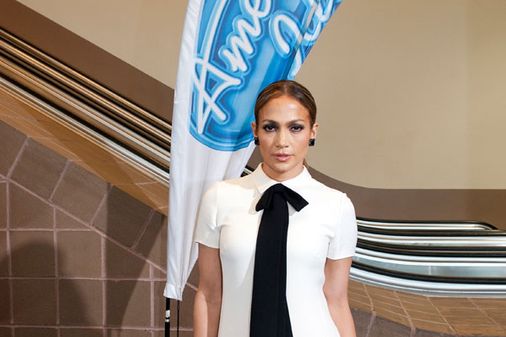 © Getty
Jennifer Lopez
Do you have any fashion secrets you'd like to share with big hip girls? Tweet us @sofeminineUK
You Might Also Like:
What To Wear If You're Pear-Shaped

What To Wear If You're Petite

What To Wear If You're Tall