For those of you that were thinking Kim Kardashian's Instagram has been pretty quiet lately here's a sweet selfie treat for you.
After donning her gorgeous lighter locks for a record five months, Kim's waved goodbye to her blonde ambition in favour of a new ombre hue. What can we say... it was only a matter of time!
At first it seemed she was more than happy with the results, captioning her photo with "I'm back", but now she's beginning to doubt the hasty colour change.
Ranting to fans on Mobio Insider she said: "I'm so annoyed I dyed my hair dark! I wanted to switch it up since I feel everyone went light, and we started filming a new season of Keeping Up With the Kardashians, so wanted a fresh look. BUT now I am missing my light hair! HELP!!! What do I do? Go light again or stay dark and get used to it?"
We should have seen this confidence crisis coming. Back in December she hinted to fans that she was fighting the urge to dye her hair in a web chat.
She said: "I had the urge to go dark today when I was at the salon but I finally got the colour blonde so good, I want to wait a little longer. I go back and forth all the time on what colour I want my hair."
If the whisperings are true there could be be more to her hair makeover than meets the eye. The 33-year-old reality star reportedly went back brown for her debut cover for Vogue US - massive OMG moment.
Kim's colourist, George Papanikolas, said that the reality star had wanted to go blonde for quite some time. In September, he told E! News that going blonde was something "she's wanted to do for a long time. I've been colouring her hair for a year, and she's wanted to go blonder since the day we met."
Whatever the reason behind her transformation, she clearly hasn't got blonde out her system just yet so we'll have to stay tuned for the next season of KUWTK.
Anyhow, all that back and forth action can't be kind on your tresses so we stay stick with it girl and if all else fails go light again for the summer.
What do you think of Kim's new do? Tweet us @sofeminineUK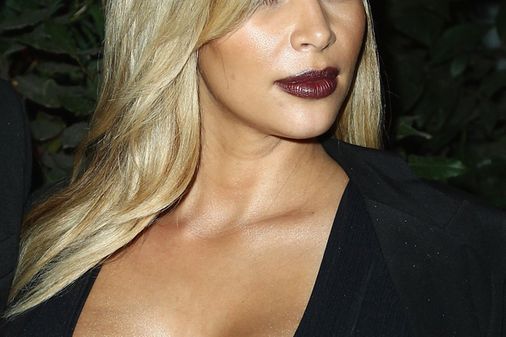 © Getty
Kim Kardashian