SPOILER ALERT!
Carly is relieved when Ben allows her to go to a rehab centre in Scotland. Sienna realises she was wrong about Nancy and races to The Dog to check she's ok after spiking her drink. Meanwhile, Trevor recognises Carly as the girl who testified against someone he knows. Sienna sees Ben and Carly's tearful goodbye and unaware that Carly is Ben's daughter, gets in her car and angrily follows Carly. Sienna tracks her down at Ben's flat and the girls fight.

Simone wants to treat Lisa to a pamper day so they can bond properly. Lisa doesn't show up to meet Simone at the bus stop and goes to Louis' football camp instead. Kyle also turns up and makes lewd comments to Celine who is doing a defibrillator demo. Kyle and Zack turn on each other but when Kyle pushes Zack, Celine goes flying into a pile of soil and is humiliated. She gets changed in the girl's toilets at school but Kyle sneaks in and takes a photo of her in her underwear. Cameron threatens Kyle to delete the photo but is concerned about Celine when she starts to cry.

Darren is frustrated that Maxine is spending more time with Patrick to discuss their new arrangements for Minnie.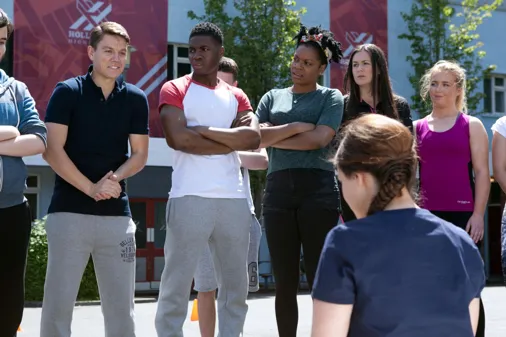 See album