Microblading is nothing new. The popular procedure - which became a phenomenon in 2013 - is essentially the application of semi-permanent makeup to your natural brows to give the appearance of bushier or more defined ones. Microblading is also referred to as brow embroidery or brow tattooing and involves using a small, sharp instrument of 10-16 fine needles configured into a blade shape to deposit pigment into the skin. Once the indents have been made, colour pigment is left on the skin to be absorbed for several minutes and a numbing cream is applied over the top to make the remainder of the treatment virtually painless.
Having read up on all things microblading (the top 5 Google results), I was intrigued and nervous in equal amounts to try Browhaus' version of the treatment. Aptly-titled Brow Resurrection - it sounded as though it's just what my beautician ordered to remedy my thin, scarce brows - the signature, semi-permanent treatment boasts a more detailed and natural stroke that's finer than most brow embroidery techniques. I felt confident in the fact Browhaus take a strand-by-strand approach to recreate natural lifelike brows and hire only the most skilled of artists.
I was lucky enough to get booked in with Charmaine - one of Browhaus UK's most reputable beauticians or 'brow architects'. Any nerves I'd had in the lead up to my appointment were soon banished by her as she did everything to ensure I felt comfortable both physically and mentally - the prospect of having needles come at your face is a rather daunting one.
Unlike many hairdressers I've had the misfortune of encountering, Charmaine asked for my preferences regarding shape and shade and proceeded to follow them word for word, offering suggestions based on her years of experience and expertise as to what would suit me best. The drawing process was quite cathartic with the beautician stopping to show me how my brows were looking and ensure I was happy with their appearance, every two minutes or so.
I was left to relax as the numbing cream was applied and given sufficient time to soak in and let me tell you - it's a big ask to stay completely conscious lying on a beauty bed on a Monday after work but after a gentle 'you ready?' from Charmaine, it was time to get down to brow-ness.
This is the part I struggled with the most - the salon claims the treatment is virtually pain-free and I don't know if my pain threshold is lower than the average mid-20s woman but I couldn't help but wince as she moved the sharp tool end over my brows to draw ultra-fine, natural hairs. I imagine the pain is similar to that of a cat scratching you over and over again with one of its nails which is as fun as it sounds. The fact you can hear this scratching of your skin doesn't help to put you at ease but you soon get used to the sensation as there's no alternative but to grin and bear it. You know what they say - beauty is pain. This ordeal was over before I knew it and I breathed an audible sigh of relief as Charmaine announced it was the last stroke.
While the most painful part was the actual 'tattooing', my brows and the area around them did feel a little sore and sensitive for a few hours following the appointment but I was rightfully reassured this would subside. I had visions of walking out of Browhaus with a Scouse brow but that couldn't have been further from the reality. My brows looked so natural my boyfriend didn't even notice a difference when I arrived home - this can be put down to men's ignorance but I prefer to attribute it to Charmaine's skills.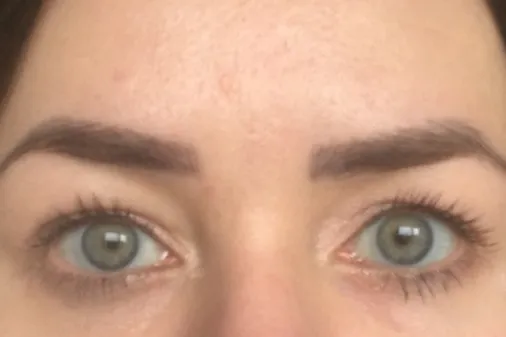 © Helen Turnbull
Brows
See album
I returned a few weeks later for a top up appointment and was told the good news that my skin had taken well to the ink so only around 10% of it had been rejected, meaning my fuller brows will definitely last for a year and probably even longer. Results vary from person to person as everyone's skin is different but the Brow Resurrection treatment is expected to last for 12 months, following the top-up, on average. If you're sick of the daily chore of penciling in your brows and have £550 - admittedly it's a pretty price to pay for the luxury of knocking 10 minutes off your getting-ready routine - to spare, I'd definitely recommend this treatment.
Brow Resurrection at Browhaus UK starts at £550. To find out more information, visit the website here
Liked this? You might also like:
Review: We Tried & Tested Nano Needle Brows And This Is What Happened
Celebrities With Perfectly Big Brows: Cara Delevingne vs. Lily Collins
Crumbs! Breadcrumb Brows Are Here And They're Making Us Feel Weird