Bored of Cara, Kendall and Gigi? Then get ready to hail the beauty icons of the seventies, when together Debbie Harry, Bianca Jagger and Farrah Fawcett turned the make-up world completely on its head. Here's a look at the women that changed the face of make-up forever…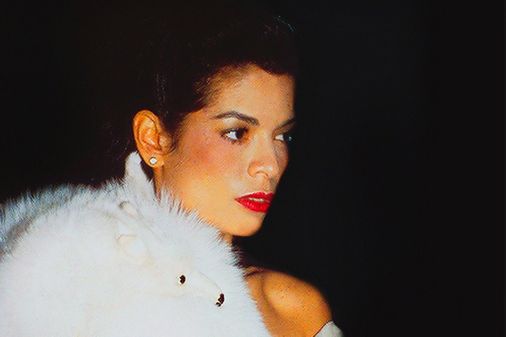 © Tumblr
Bianca Jagger
There's never been a decade quite as diverse as the seventies for makeup, beauty and hair. Whilst the natural look was still in vogue, the disco era made way for liberal use of colour, cat eyes and craziness.
​The growth of women's liberation and feminism had a huge impact on the beauty landscape paving the way for a new sassy independent woman with a punk pout and bright blue Biba lids. Nothing could stand in the way of her and her beauty regime.
Makeup was no longer a guilty pleasure, it was designed to be seen and the more glittery, glossy and shimmery the better.
On the flip side, the seventies also embraced barely-there beauty. Lighter foundation, au naturel lashes over Twiggy's sixties dolly eyes and pearlescent palettes fast became hot news – one look at Jerry Hall and you can see why.
Whether Saturday Night Fever is your kind of face paint or you're all for the natural finish, there's definitely scope for the seventies to rub off on the 21st century, if they haven't already.
Eye of the tiger
If you wanted to turn heads in the seventies you made sure your peepers were popping. After all, would you ever catch Debbie Harrie without a decent eyeliner in her make-up bag? The mysterious kitty flicks were all the rage then and they've stuck around for the noughties.
Pearlescent blues and lime greens were used all over the lids but pinks, corals and earthy tones were just as popular. The false lashes of the sixties were also on their way out with lightweight, lengthening mascara taking their place.
Fae Hammond, makeup artist on leading Hollywood movies including Rush, Life of Pi and Layer Cake, says creating an easy 70s eye is all in the application:
"Go easy! In those days they didn't use so much kohl for the inner eye so keep it softer on the outer and remember the simplicity of it all, you literally used your fingers. It was less applied!"

Hang up your makeup brushes girls and go in with the digits for a typical seventies freestyle finish.
Shy pout or all out
Neutral was the name of the game so the pout was nearly always glossed in muted shades of pink, peach or nude. As for lip-liner, that was a real no-go. Meanwhile Debbie Harry rocked a bright red lip like nobody's business. You gotta love a rebel rock chick.
Bare brows
The over-plucked thin brow of the seventies is enough to have Cara D wincing in her onesie. It's miles away from the thick and full style of today but Marie Helvin wears it so well we're tempted to tweeze.
Tan o' clock
Farrah Fawcett's flawless sun-kissed skin left women everywhere balmy for bronzer. The pale doll-like skin of yore gave way to Californian pores with that carefree breezy beach vibe.

When working with Olivia Wilde on her new film Rush, Fae got creative with the seventies tan: "I thinned everything down so it wasn't so heavy. Olivia's got beautiful skin but she was very pale and we wanted to give her that kind of seventies sunshine glow. Everyone wanted to be tanned, that was the look."
Rosy apples
Bronzer aside, peach blush was an essential tool in creating a gorgeous glowing complexion for any seventies girl. Heavy-duty foundations had already fallen off the radar due to the fresh-faced fad and rosy pink cheeks were gaining some serious street cred.
Will you be donning the disco look anytime soon? Tweet us your selfies @sofeminineUK
You might also like:
Microblading: The Latest Beauty Trend To Hit Our Brows
23 Things Every Makeup Lover Will Understand