Would Rihanna and Drake not make the perfect couple? If you're unsure, here are 10 reasons that we think will convince you otherwise!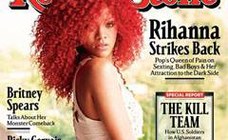 This video
These two obviously still have crazy chemistry! Why not put it to good use off-stage, guys? Wink, wink.
They have history
The two recorded "Take Care" in 2011, which proved to be one of the hit songs from Drake's album with the same name. The song reached number seven on the US Billboard Hot 100. Take Care earned Drake a Grammy Award for Best Rap Album.
They're already friends
Drake recently told Rolling Stone that he skipped the Grammy Awards in favor of hanging out with Rihanna at West Hollywood club 1Oak, but insists that they're just friends. "I mean, I think about it," Drake said. "Like, 'Man that would be good.' We have fun together. She's cool and s--t. But we're just friends. That's my dog for life."
Doesn't he know that the best relationships stem from friendships?
He called her "the ultimate fantasy"
...in the very same interview with Rolling Stone. See? We knew it!
He makes her laugh
As evidenced by this gorgeous picture. Aw!
They would have ridiculously good looking babies.
Just look at them! The Barbadian beauty and the Canadian hunk combining to make new little people? Mind-blowing.
It's another excuse to make more duets
Who wouldn't love to see - and hear - these two make another hit?
They balance each other out
She's a bad girl and he's a good guy. It's the perfect combination. She needs a little taming, and he needs a little spontaneity.
He is a gentleman
Rihanna has been put through the ringer and needs a man who will treat her right. Our money is on Drizzy.
She needs to move on from Chris Brown
Enough said.
Do you think these two will ever really get together? Tweet us @sofeminineUK!