According to Atlanta Daily World, Nicki Minaj was spotted on Jan. 2 with what appeared to be baby bump where she was having a dinner date with another man.
However, insiders have reported the star is choosing water over cocktails, which is out of character for the star. The sourced revealed: "She twice made toasts by drinking water instead of wine," adding that it is "highly unusual" for the singer to toast with anything but a full glass of wine.
Not only was the "Pink Friday" singer all over Lil Wayne during their Billboard performance, but their racy music video "High School" also raised a lot of eyebrows when the pair got hot and heavy simulating sex and almost locking lips.
However, in an interview with MTV, Nicki said she vetoed the kiss.

"We kept on laughing the whole time.
"Wayne said we had to kiss for the video. He was like, one thing that's going to sell it is if we really kiss. I'm like, ehh," said Nicki.
Lil Wayne has four children with four different women so it's hardly surprising that he might have another baby on the way.
As an experienced father, we think Lil Wayne will make a pretty good Dad. In an interview with Global Grind he said: "Fatherhood is the most important thing to me; that's what's first."
But Nicki has been around the block a few times herself getting involved with YM crew member Drake, and producer DJ Khaled​.
There's been little evidence to back up the claims so only time will tell if the rumours are actually true!
What do you think Barbies... could Nicki be preggers for 2014? And is Lil Wayne the baby daddy? Tweet us @sofeminineUK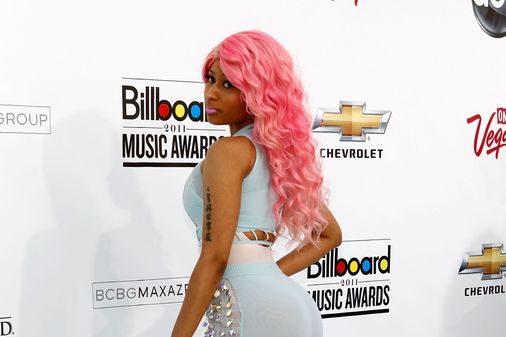 © Getty Images
Nicki Minaj