Stephanie Seymour and her hilariously inappropriate photo shoot
Supermodel Stephanie Seymour looks fantastic in her latest photo shoot as she dons lingerie and frolics about with two young looking men. Oh, hang on, those men are her SONS? This makes us feel all icky inside.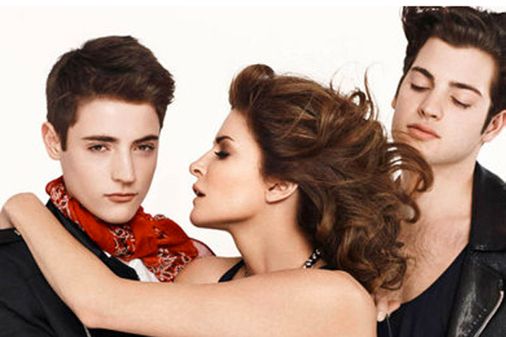 © Sebastian Faena - Harpers Bazaar
Stephanie Seymour
Madonna and her son wear matching outfits
Madonna rocked up to the Grammys with her son, eight-year-old David.

Unfortunately for Madonna, for us and, more importantly, for David, the pair donned mother-son matching outfits. They looked like they were extras in Bugsy Malone.
Beyonce poses with Blue Ivy in her undies
We love Beyonce and she can do no wrong and she has the most beautiful face and voice and we love her, but this snap looks like Queen B was about to do a photo shoot in her undies when her two-year-old toddler Blue Ivy accidentally wandered in. She looks pleased to see her though!
Jennifer Lopez goes sexy at a photo shoot...with her children
That's it JLo, pose sexily at the camera as you hold your twins. Why Jennifer? Why couldn't you have just smiled? It makes it just a bit weird.
Katie Price and the inappropriate outfit
Yes she is posing like this, and yes those are little children stood on either side of her (not those, they're miniature horses). Wow. So…what was she thinking?
Lily Allen's weak promises to avoid embarrassing her children
Lily Allen has said: "When I write music now I'm conscious that I have two children and they're going to hear it. I can't be too sexy or gross or rude because that would be embarrassing for them." Unfortunately she then released a single called Hard Out Here with balloons that spelt: "Lily Allen hasa baggy p***y". Yeah. Just wait until her children read?
Victoria Beckham uses Brooklyn as a handbag
Victoria loves everything to do with fashion…which is probably why she's using her poor son Brooklyn as an accessory! She speant a lot of the evening of the Glamour Woman Of The Year Awards draped around him – did he feel as awkward as we did? Perhaps someone should ask him?!
Sofia Vergara's thong shot - taken by her son
During an interview with Ryan Seacrest, Sofia explained her thong snap. She said: "My son took that picture and I'm like, 'Damn I still look good! I'm going to post this one.' At this age, you don't take for granted a good picture." She's right that she looks hot, but should her son be taking shots like this?! Mum! Put it away.
Katie Price's glamour shoot - we mean - newborn pictures
Katie Price probably did the most glamour model-esque baby photo shoot ever, and the snaps were kind of inappropriate!
Kate Gosselin's horribly awkward interview
Katie Gosselin is an American television personality with a reality TV show that documents the lives of her eight children. The 38-year-old recently went onto a talk show with her twins and basically completely embarrassed them whilst trying to talk herself up. It is so awkward.
Which do you think is the most awkward? Tweet us @sofeminineUK