Only days after their first official red carpet appearance as a couple, a paparazzi snapshot revealed that Johnny Depp and Amber Heard just might be engaged.

The very private couple first met in 2011 while filming The Rum Diary, and have been dating since 2012. The pair made their first official appearance as a couple last Saturday, at The Art of Elysium's 7th Annual Heaven Gala.

Amber looked stunning in a slinky black sequined dress, while Johnny was snazzy in a black suit. Though 50-year-old Johnny Depp did not walk the red carpet alongside his girlfriend, the couple posed for pictures inside the event.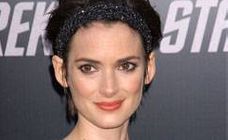 The pair laughed and smiled together at a front table at the event and looked like the epitome of the happy couple. Both actors also presented at Sunday's Golden Globe awards show.

Now it looks like Amber has more reasons than one to be a very happy girl. While leaving LA restaurant Ago, an eager photographer snapped a quick photo of the actress' hand, where she was sporting quite a rock.

Though Amber was trying desperately to cover it up, a diamond ring was clearly visible on her left hand ring finger. Could the gorgeous bling we see be an engagement ring?

If Johnny has popped the question, it would be his first marriage. Though he was together with former girlfriend Vanessa Paradis, mother of his children Lily Rose and Jack, for fourteen years, the two split in 2012 on friendly terms.
Amber, who has formerly dated girls, has caught a bit of flak for her relationship with the sexy male actor, but she fired back in the September 2013 issue of Flare magazine, saying she found it "strange" that people cared about things like that.

"Maybe you like blondes now, but maybe you'll be into a brunette in the future," she told the magazine. "I just don't understand this idea that we have to choose one or the other."

Johnny and Amber looked happy as can be at last weekend's gala, but are wedding bells in their future? What do you think? Tweet us @sofeminineUK.

© Getty
Johnny Depp and Amber Heard