Kendall Jenner has denied dating Harry Styles whilst they continue to hang out together. Is she fibbing to us, or are they really just friends? Hmm…

According to The Mirror, Harry Styles only emerged from Kendall's father's beach house twice in two days – and we're guessing he wasn't hanging out with Bruce Jenner!

A source revealed: "Harry went to the beach house late in the evening and didn't emerge again until the morning.

"Harry's obviously had the seal of approval from her dad, Bruce, it's the second time in a week he's spent the night at his beach house."

The 19-year-old singer recently only claimed he'd kissed eight girls – HAHA, sorry – and squirmed when asked about their relationship whilst being interviewed by Piers Morgan. When Piers asked him out right if the two were a couple, Harry replied: "I mean…we went out for dinner, but no. I guess."

When Piers asked him if there was "a bit of romance", Harry replied "Don't know, move on!"

You don't know? So there could be? Are we reading into this too much?!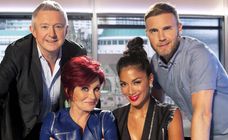 An insider also suggested that they thought the teenagers' relationship "could become more", and one nosy person recently claimed they saw Harry texting Kendall.

They said: "I saw him first hand texting her. I got close enough to his booth and he was texting Kendall. Her pic was on his phone and when he was texting and typing into the phone her name was at the top of the message bar."

Although this all seems encouraging, Kendall has denied that they are a couple. Speaking on the red carpet at the American Music Awards on Saturday night, the 18-year-old responded to questions about their relationship, saying: "No story, we're friends. He's cool."

Selena Gomez originally pretended she didn't fancy Justin Bieber, Kendall, and look where that ended up! Better for everyone if you admit it sooner rather than later!

Do you think they'd make a good couple? Tweet us @SofeminineUK

© Getty
Harry Styles