James Arthur is starting another popstar feud – but this time it's with ex-girlfriend Rita Ora.

The 25-year-old – who previously called 1D's Louis Tomlinson a "little b**ch" and slammed his predecessor Matt Cardle – was recording a session for BBC Radio 1Xtra.

The ten-minute tirade was part of Charlie Sloth's Saturday hip-hop show, suitably titled Fire In The Booth.

During the pre-recorded session James, who is currently promoting his debut album, seemed to have no qualms about slamming his pop star ex girlfriend.

The swear-heavy rap included the lines: "I'm giving 10 million f***s less than Rita does and that's a lot of f***s. Yeah that's a lot of f***s.

"Some people's oras (auras) and demeanours can deceive us, but what they really want is a piece of your p****."

At least Rita – who is now dating DJ Calvin Harris – can take comfort in the fact that she wasn't the only blonde chart topper to be slammed by last year's X Factor winner.

Strangely the Middlesbrough lad also took aim at Australian rapper Iggy Azalea, saying: "I am cold, fearless, sticking this thing in Z listers. And I don't want to aim this venom at a f***ing hater's cranium, blow the load of broken Britain on Iggy Azalea's crazy area."
Watch James Arthur's X-rated Fire In The Booth: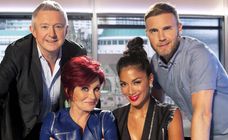 While he had the mike and a captive audience, James also took the opportunity to address his haters.

He notably called out the tabloid newspapers for printing a slew of embarrassing kiss and tells on him, rapping: "And thanks to the Sun for repeatedly tryna drag me down by paying girls pittance to ruin their lives for a non story."

Immediately the hashtag #JamesArthurFireInTheBooth was trending on Twitter, with listeners tweeting their shock, but also registering surprise at the fact he's a pretty talented rapper as well as singer (he's certainly kept that one quiet!).

But after receiving a whole criticism over his cruel words, James has since denied that he was taking a pop at his ex Rita.
He told The Mirror: "I was totally bowled over by the positive reaction to my FITB on Twitter yesterday. A big risk for me and mind-blowing to get so much love.

"And for the record it wasn't a Rita diss! She's a mate and I meant that I'd like to live my life to the full and give less of a f*** about everything just like she does! It's something I really respect."

But this isn't actually the first time that James has hinted at his bad feelings towards the R.I.P. singer.

Shortly after their brief February fling, he admitted that he was shocked to see her out with football agent Dave Gardner.

He commented to The Mirror: "Who hasn't had interest from Rita Ora? She was out with me one night and then coming out of club with David Beckham's best friend the other night."

I was like, 'Oh f*** you then. A lot of attractive women are d********.'"

Do you think James' rap was a Rita diss? Tweet us @SofeminineUK.

© Getty
Rita Ora and Calvin Harris