There's pretty much no one who doesn't like Jennifer Lawrence – she's talented to the gills and a looker to boot.

But despite her beauty and brains, reportedly the Hunger Games: Catching Fire star isn't as happy as she appears on the surface.

The 23-year-old - who is dating British actor Nicholas Hoult - allegedly suffers from anxiety that leaves her paralysed with fear on the red carpet.

It stems from Jen's childhood, when the American Hustle actress had to be medicated for her hyperactivity and nervousness.

Although Jennifer managed to get past her problems, the constant pressure of the red carpet and the gruelling promotional duties for The Hunger Games: Catching Fire are supposedly making them rise to the surface again.

Recently Jen admitted to Madame Figaro: "[When I was younger] my nickname was 'nitro', as in nitroglycerin.

"I was hyperactive, extremely curious about everything, but when I went to school, the light went out. We never knew what it was, a kind of social anxiety. But I had friends."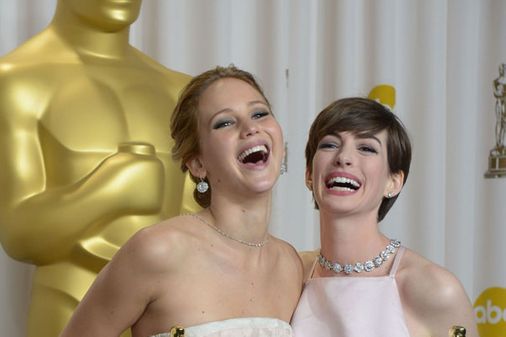 © Getty
Jennifer Lawrence and Anne Hathaway
Leaving school at 15-years-old to pursue a career in Hollywood meant that her social fears went away, but now her nerves are flooding back due to intense situations such as the Oscars.

Jennifer's Oscar tumble as she went up to collect her Academy Award for Best Actress, plus her wardrobe malfunction at the SAGs – when her dress caught and ripped on a chair – have left the actress supposedly terrified of the upcoming awards season.

Her most recent role as Rosalyn Rosenfeld in American Hustle is once again putting the young Hollywood starlet in the running for a whole host of acting awards, and she's reportedly freaking out about embarrassing herself again this year.

Jen revealed to Madame Figaro: "[Being interviewed on TV] is my biggest nightmare. I'm thinking about people watching me at home and hating my guts.

"You know that there's somebody watching who hates you."

But according to Jennifer she's slowly learning to deal with the stress and she credits her close family and friends with helping her to deal with the craziness of her new life.

The Winter's Bone actress enlisted her best friend Justine to assist her, so that she has someone she knows and trusts to chill out with her after a long day filming or doing promotional work.

"At the end of a day of shooting, I can go home and hang out with her, and not share time with someone who works for me," she explains.

Are you surprised to learn about Jen's anxiety issues? Tweet us @sofeminineUK.