Something very odd has been going on with Kristen Stewart lately.

She seems, well…happy.

The usually mardy Twilight star has been snapped flashing a cheeky smile or two on the set of her new film, Sils Maria, in Berlin.

Wearing one of her trademark all-black outfits and Converse trainers, in one photo 23-year-old Kristen grins at the camera while hanging out with the film's crew.

It's good to see Kristen in higher spirits after a tough summer following her split from Robert Pattinson, who seemed to settle into single life with ease.

A source previously told Hollywood Life: "Kristen isn't happy that Rob has seemed to be so carefree filming his next movie, going out all of the time, etc.

"Does she want him to live a happy life? Of course. But she wishes it looked like he was suffering a bit more.

"She feels like her exhaustion and heartbreak as a result of the situation is written all over her face, and she feels betrayed that it looks like he's totally cool with everything.

"It's a cycle of depression for her."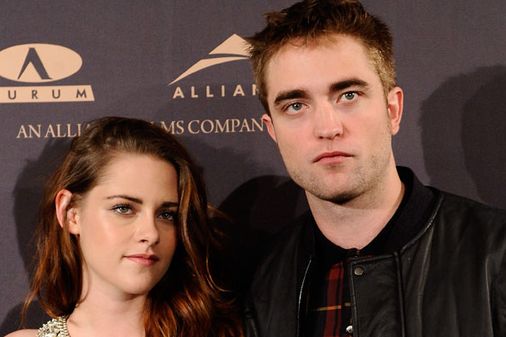 © Getty
Kristen Stewart and Robert Pattinson
Rob has been linked to numerous women since he broke-up with Kristen back in May, which must have proved tough for his ex.

First it was rumoured he and Katy Perry were more than just good friends - but the singer quickly cleared up those rumours.

Katy, 28, even sent Kristen a text to reassure her she wasn't hooking up with the Twilight hunk.

She told ELLE UK: "I sent her a text message saying: 'I know you've seen all this stuff but you know I would never disrespect you. I'm not that person. I'm just trying to be a friend to him but it is unfortunate that I do have a set of t*ts.'"

Rob, 27, was also reported to be growing close to Elvis' granddaughter Riley Keough - all while Kristen was struggling to recover from their failed romance.

But then there were rumours just last month that Rob and Kristen could be reuniting after the British hunk's car was spotted outside her house.

Could this be the reason for Kristen's smile? Who knows!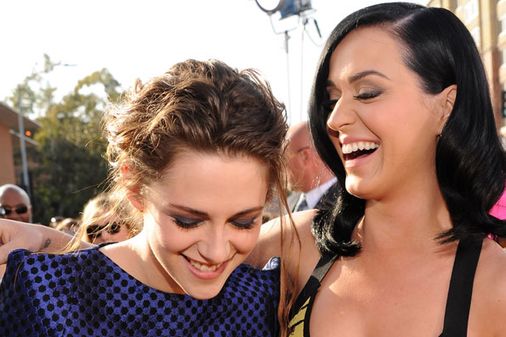 © Getty
Kristen Stewart and Katy Perry